KEWENANGAN KEPALA DAERAH TERHADAP BADAN USAHA MILIK DAERAH DITINJAU DARI HUKUM ADMINISTRASI NEGARA
Enny Agustina

Universitas Kader Bangsa
Keywords:
authority; regional owned enterprises; regional heads
Abstract
The research objective was to analyze and explain the authority of the regional head towards the state-owned body in terms of state administrative law. The research method of this paper uses a normative juridical research method. Research results: The state is an organization of power because in the country we always meet the centers of power, both in the superstructure (incarnated in political institutions and state institutions) and infrastructure which includes political parties, interest groups, pressure groups, political communication tools. This study uses normative estimation so that the sources used come from the literature, literature. This study discusses the authority of the Regional Head towards Regional Owned Enterprises. The results obtained from the study are Regional Owned Enterprises in the form of Regional Companies formed through Regional Regulations based on Law No.5 of 1962 concerning Regional Companies. After the Regional Company has its form as a Limited Liability Company, the rules concerning the Limited Liability Company apply to him with shares owned by the region in whole or in part. The Regional Head as the personification of the Regional Government is the shareholder in the Regional Owned Enterprise. All authorities possessed by regional heads are limited in the scope of authority as shareholders.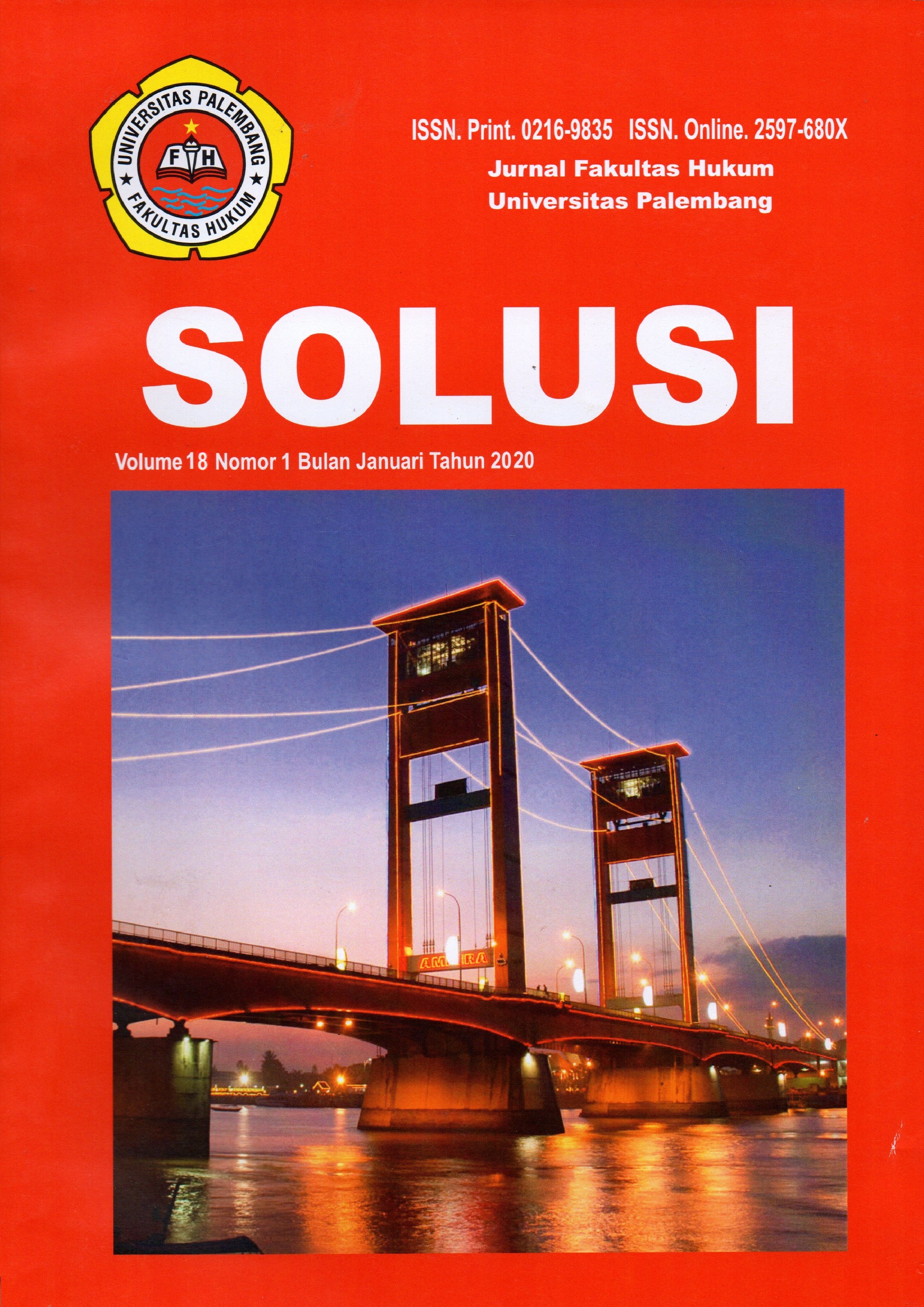 How to Cite
Agustina, Enny. "KEWENANGAN KEPALA DAERAH TERHADAP BADAN USAHA MILIK DAERAH DITINJAU DARI HUKUM ADMINISTRASI NEGARA". Solusi 18, no. 1 (January 1, 2020): 11-19. Accessed July 16, 2020. http://jurnal.unpal.ac.id/index.php/solusi/article/view/256.
Copyright (c) 2020 Solusi
This work is licensed under a Creative Commons Attribution-ShareAlike 4.0 International License.
Authors who publish with this journal agree to the following terms:
Authors retain copyright and grant the journal right of first publication with the work simultaneously licensed under a Creative Commons Attribution License that allows others to share the work with an acknowledgement of the work's authorship and initial publication in this journal.
Authors are able to enter into separate, additional contractual arrangements for the non-exclusive distribution of the journal's published version of the work (e.g., post it to an institutional repository or publish it in a book), with an acknowledgement of its initial publication in this journal.
Authors are permitted and encouraged to post their work online (e.g., in institutional repositories or on their website) prior to and during the submission process, as it can lead to productive exchanges, as well as earlier and greater citation of published work