SANKSI HUKUM BAGI APARATUR SIPIL NEGARA TERLIBAT DALAM PARTAI POLITIK
Evi Oktarina

Sekolah Tinggi Ilmu Hukum Sumpah Pemuda
Keywords:
State Civil Apparatus; Government; Political Parties
Abstract
Factors causing State Civil Apparatus (ASN) to participate in political parties are political intervention by State officials, ASN feel that their income or salary as ASN has not fulfilled the needs of life and the quality of its own human resources. While the legal sanctions for ASN involved in political parties namely to the ASN will be dismissed with no respect, this is as stated that ASN employees must be free from the influence and intervention of all groups and political parties (Article 9 (2)) of the ASN Law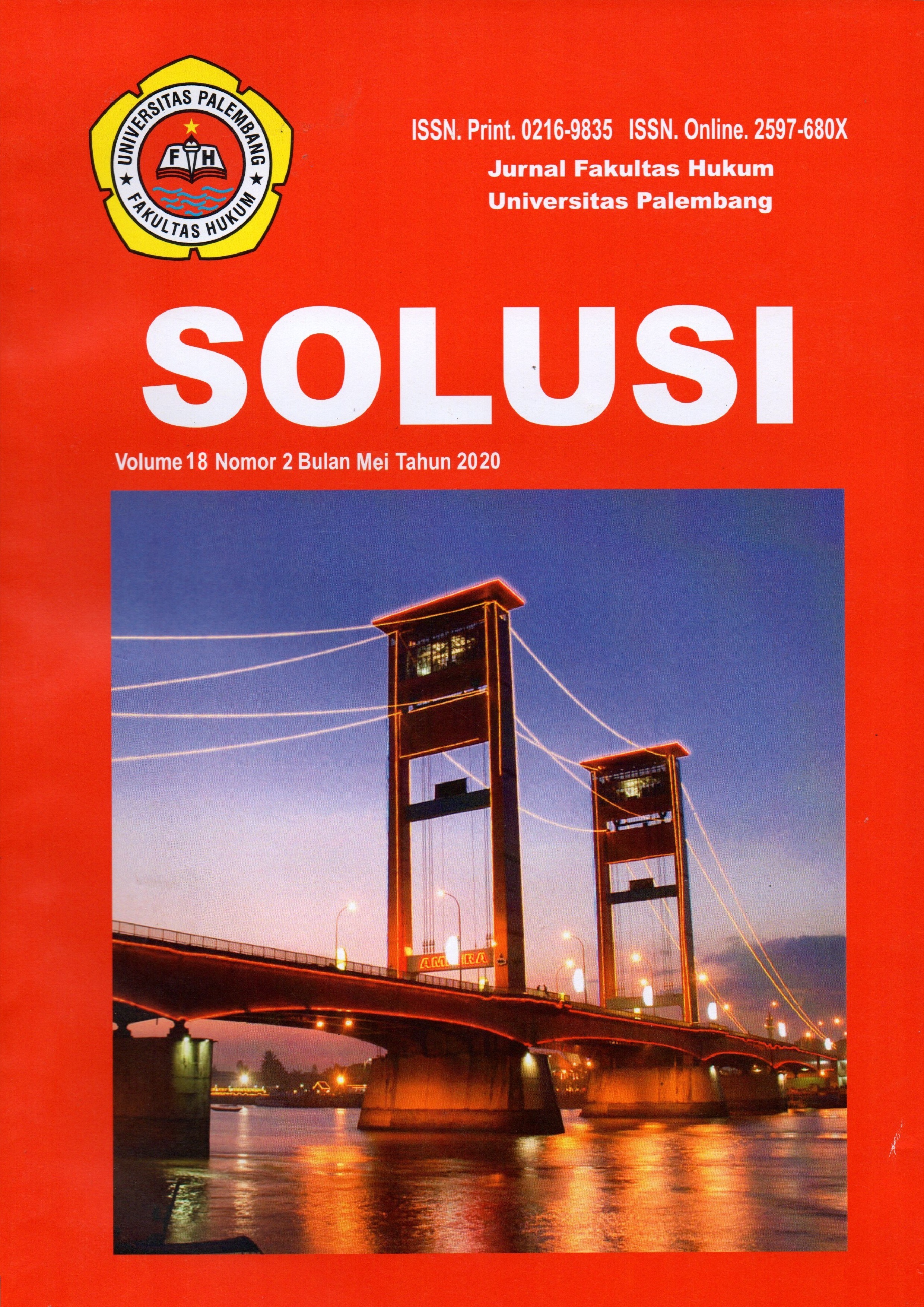 How to Cite
Oktarina, Evi. "SANKSI HUKUM BAGI APARATUR SIPIL NEGARA TERLIBAT DALAM PARTAI POLITIK". Solusi 18, no. 2 (May 1, 2020): 183-197. Accessed June 2, 2020. http://jurnal.unpal.ac.id/index.php/solusi/article/view/285.
Copyright (c) 2020 Solusi
This work is licensed under a Creative Commons Attribution-ShareAlike 4.0 International License.
Authors who publish with this journal agree to the following terms:
Authors retain copyright and grant the journal right of first publication with the work simultaneously licensed under a Creative Commons Attribution License that allows others to share the work with an acknowledgement of the work's authorship and initial publication in this journal.
Authors are able to enter into separate, additional contractual arrangements for the non-exclusive distribution of the journal's published version of the work (e.g., post it to an institutional repository or publish it in a book), with an acknowledgement of its initial publication in this journal.
Authors are permitted and encouraged to post their work online (e.g., in institutional repositories or on their website) prior to and during the submission process, as it can lead to productive exchanges, as well as earlier and greater citation of published work