Current Issue
Vol 11 No 4 (2023): Jurnal Manajemen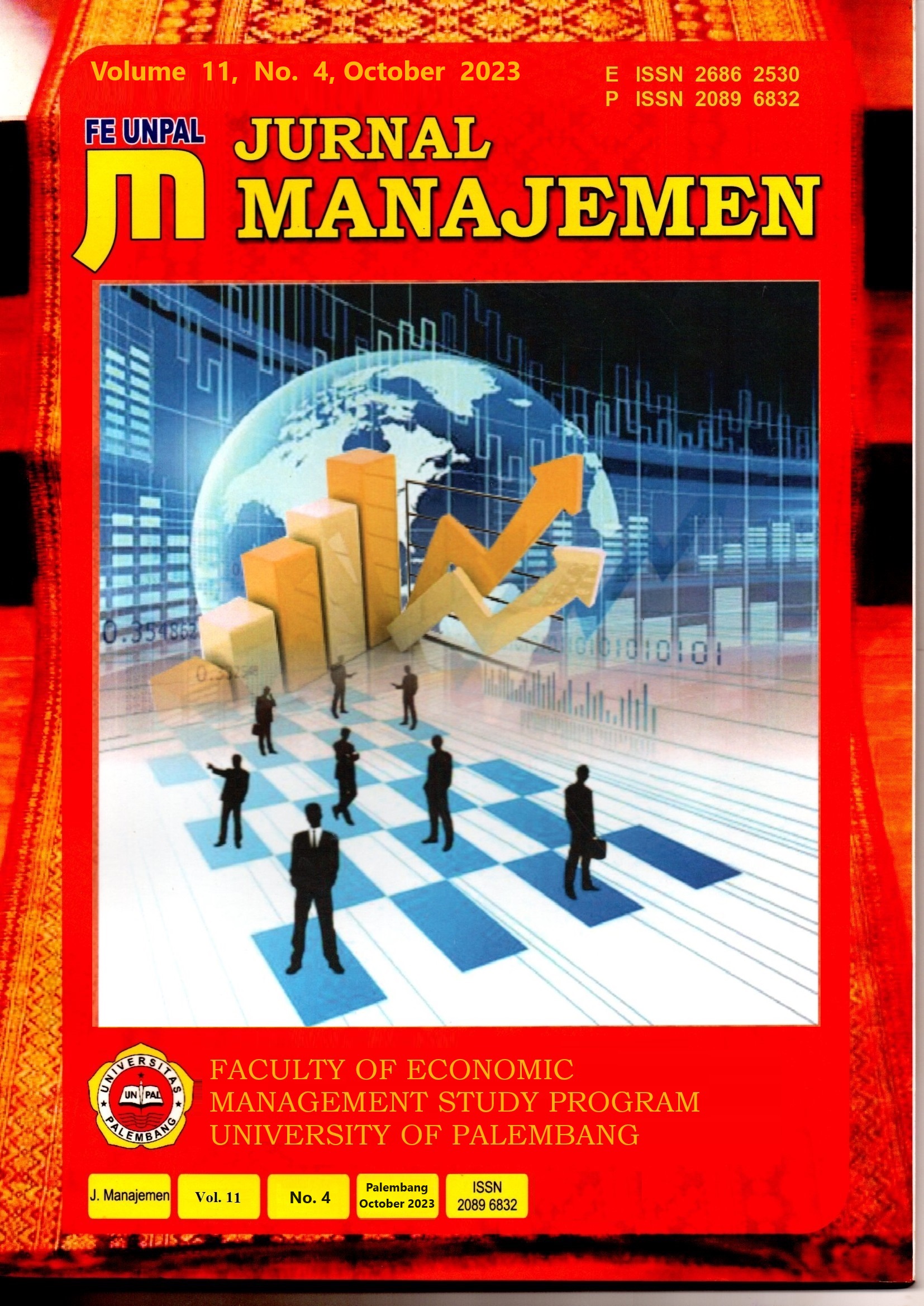 JM: Jurnal Manajemen is a scientific communication media published by the Management Study Program, Faculty of Economics, University of Palembang. The Management Journal is dedicated to researchers and academics who wish to publish research papers, technical papers, conceptual papers, and case study reports. Scientific periodical publications on Management-related issues covering Human Resources Management, Marketing Management, Financial Management and Operations Management as well as Strategic Management. In addition, the Management Journal is also a medium for disseminating research information for lecturers, researchers and practitioners. The Palembang Economics Faculty Management Journal is published 4 (four) times a year (January, April, July and October)  with p-ISSN 2089-6832 and e-ISSN 2686-2530.
 In accordance with Decree Direktur Jenderal Pendidikan Tinggi, Riset, dan Teknologi Number 225/E/KPT/2022,  JM : Jurnal Manajemen has been to Sinta 6 starting from Volume 8 Number 1 of 2020.
View All Issues
All Articles published in the Jurnal Manajemen are original works of authors with a broad spectrum of topics. Detailed coverage of articles have been accepted for submission of Management studies involving five areas of management concentration namely Human Resource Management, Marketing Management, Financial Management and Operations Management as well as Strategic Management
(1) Human Resource Management is the efficient and effective utilization of a number of individuals and can be maximally empowered for the achievement of organizational or company goals. The study of human resource management includes procurement, development, compensation, integration, maintenance, discipline, and termination
(2) Marketing Management is the analysis of planning, implementation and control of programs designed to create, build and maintain profitable exchanges with target buyers to achieve organizational and corporate goals.
(3) Financial Management is all activities related to financial management decisions and financial assets. The main objective of financial management is to obtain maximum profit through available financial resources
(4) Operations Management is a business area that focuses on the production process and ensures that maintenance and development take place effectively and efficiently. The main task of operational management is to carry out comprehensive and optimal management in the use of production factors ranging from human resources, goods, machines, equipment, raw materials and other production factors.
(5) Strategic Management is a process of preparing, implementing, and evaluating decisions. Strategic management focuses on the process of setting organizational goals, developing policies and planning to achieve goals and allocating resources to implement policies and plan organizational goals