KINERJA PENEMPATAN ARRESTER SEBAGAI PELINDUNG TEGANGAN LEBIH PETIR PADA GARDU INDUK BUNGARAN
Choirul Rizal

Universitas Palembang

Raden Ahmad Yani

Universitas Palembang
Abstract
Pada saat kondisi listris mengalami krisis, maka perlu adanya alternatif untuk mengatasi hat tersebut. Saat ini harga BBM yang harganya terus meningkat dan semakin berkurangnya cadangan yang ada, maka timbul pemikiran penggunaan BBM secara effisien dan efectif. Untuk menjamin kontinuitas operasi serta menjaga kerusakan peralatan gardu induk,maka diperlukan sistem perlindungan dari sambaran petir yang mengakibatkan gangguan tegangan lebih. Adapun proteksi yang digunakan salah satunya adalah menggunakan Arrester, Arrester digunakan sebagai pelindung bagi peralatan sistem tenaga listrik terhadap surya petir. Arrester membentuk jalan yang muda dilalui oleh arus kilat atau petir, sehingga tidak timbul tegangan lebih yang tinggi pada peralatan. Dimana penentuan peletakan posisi arrester terhadap peralatan yang dilindungi sangatlah penting untuk keakuratan sistem perlindungan. Sehingga dalam tulisan ini didapat jarak optimal arrester diposisi pada jarak 5 m, dimana jarak maksimal yang diperbolehkan berdasarkan perhitungan yang dilakukan adalah 57 m.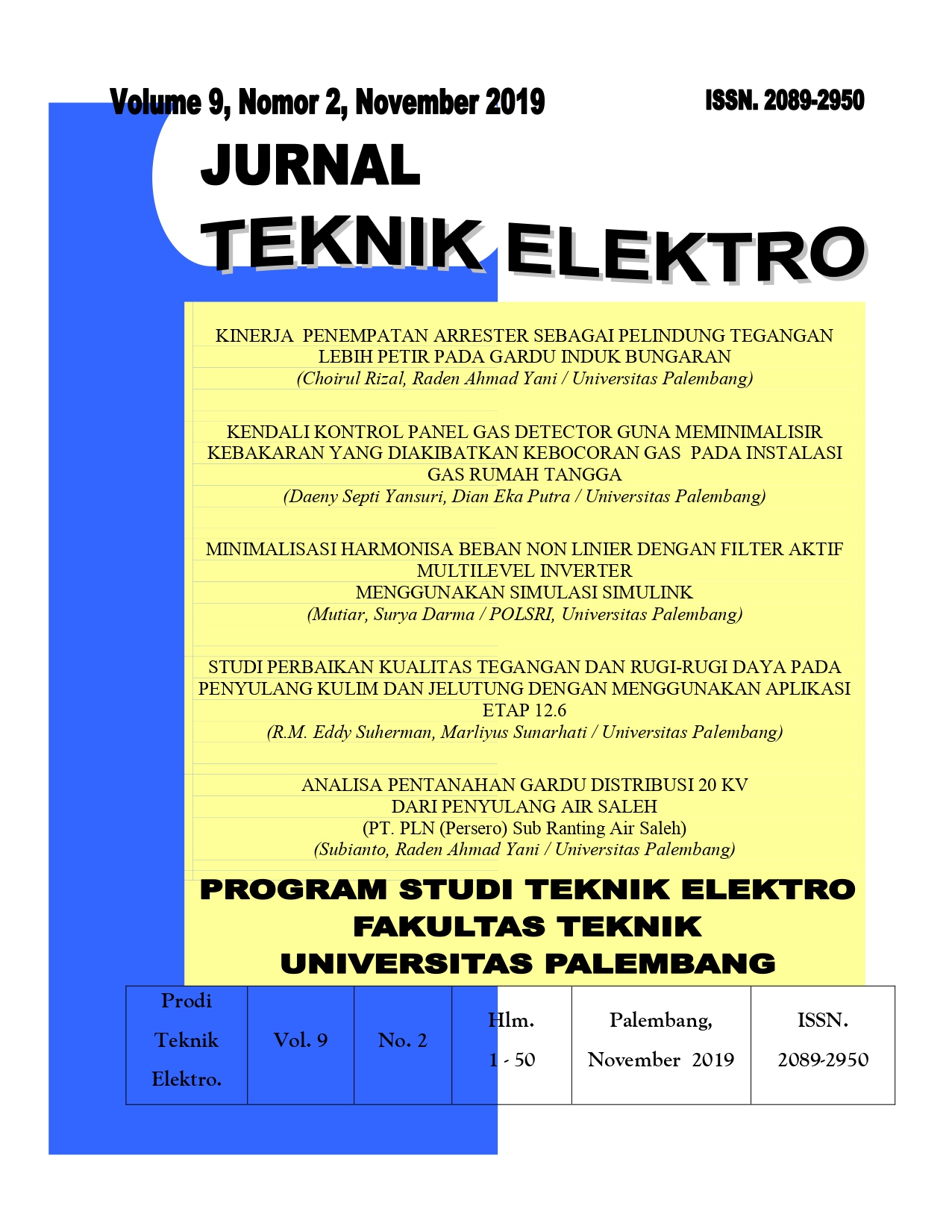 How to Cite
Rizal, C., & Yani, R. (2019). KINERJA PENEMPATAN ARRESTER SEBAGAI PELINDUNG TEGANGAN LEBIH PETIR PADA GARDU INDUK BUNGARAN. Jurnal Teknik Elektro, 9(2), 1-9. https://doi.org/10.36546/jte.v9i2.382
An author who publishes in the Jurnal Teknik Elektro (JTE) agrees to the following terms:
Author retains the copyright and grants the journal the right of first publication of the work simultaneously licensed under the Creative Commons Attribution-ShareAlike 4.0 License that allows others to share the work with an acknowledgement of the work's authorship and initial publication in this journal.
Submission of a manuscript implies that the submitted work has not been published before (except as part of a thesis, report, or abstract); that it is not under consideration for publication elsewhere; that its publication has been approved by all co-authors. If and when the manuscript is accepted for publication, the author(s) still hold the copyright and retain publishing rights without restrictions. For the new invention, authors are suggested to manage its patent before publication. The license type is CC-BY-SA 4.0.
Jurnal Teknik Elektro (JTE)is licensed under a Creative Commons Attribution-ShareAlike 4.0 International License.