KENDALI KONTROL PANEL GAS DETECTOR GUNA MEMINIMALISIR KEBAKARAN YANG DIAKIBATKAN KEBOCORAN GAS PADA INSTALASI GAS RUMAH TANGGA
Daeny Septi Yansuri

Universitas Palembang

Dian Eka Putra

Universitas Palembang
Keywords:
Panel gas detector, selenoid valve, relay, instalasi gas rumah tangga
Abstract
Relay adalah suatu peranti yang bekerja berdasarkan elektromagnetik untuk menggerakan sejumlah kontaktor yang tersusun atau sebuah saklar elektronis yang dapat dikendalikan dari rangkaian elektronik lainnya dengan memanfaatkan tenaga listrik sebagai sumber energinya. Kontaktor akan tertutup (menyala) atau terbuka (mati) karena efek induksi magnet yang dihasilkan kumparan (induktor) ketika dialiri arus listrik. Pada penelitian ini dirancang sebuah panel konvensional yang terdiri dari beberapa relay yang di susun menjadi sebuah sistem kontrol atau bisa disebut panel gas detector. Dimana Sanwoo gas detector bekerja sebagai pemberi input signal ke sistem kontrol untuk mendeteksi adanya kandungan gas Methane yang ada di LPG atau pun Gas Alam. Dan solenoid valve sebagai output untuk mengentikan aliran gas jika terjadi kebocoran gas. Selanjutnya panel gas detector akan terhubung dengan sanwoo gas detector yang ditempatkan pada ruang – ruang produksi dan solenoid valve yang terpasang pada inlet pipa instalasi, dibutuhkan waktu 0,2 detik valve selenoid untuk menutup aliran Gas Alam pada instalasi Gas Rumah Tangga. Sistem ini bisa di aplikasikan pada industri-industri yang menggunkan gas sebagai bahan bakarnya. Panel gas detector ini berfungsi sebagai pengaman guna meminimalisir terjadinya kebakaran yang di sebabkan oleh kebocoran gas.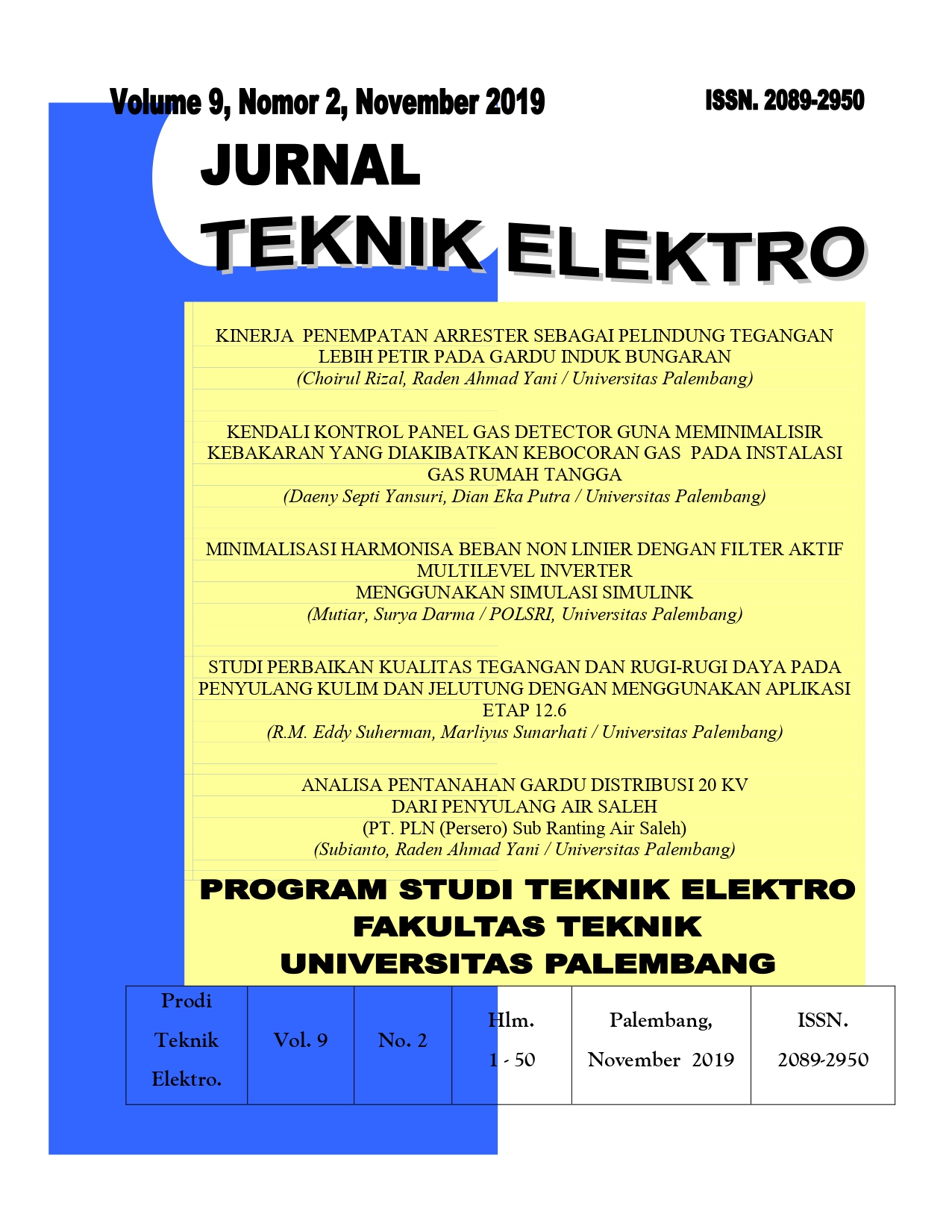 How to Cite
Yansuri, D., & Putra, D. (2019). KENDALI KONTROL PANEL GAS DETECTOR GUNA MEMINIMALISIR KEBAKARAN YANG DIAKIBATKAN KEBOCORAN GAS PADA INSTALASI GAS RUMAH TANGGA. Jurnal Teknik Elektro, 9(2), 10-20. https://doi.org/10.36546/jte.v9i2.385
An author who publishes in the Jurnal Teknik Elektro (JTE) agrees to the following terms:
Author retains the copyright and grants the journal the right of first publication of the work simultaneously licensed under the Creative Commons Attribution-ShareAlike 4.0 License that allows others to share the work with an acknowledgement of the work's authorship and initial publication in this journal.
Submission of a manuscript implies that the submitted work has not been published before (except as part of a thesis, report, or abstract); that it is not under consideration for publication elsewhere; that its publication has been approved by all co-authors. If and when the manuscript is accepted for publication, the author(s) still hold the copyright and retain publishing rights without restrictions. For the new invention, authors are suggested to manage its patent before publication. The license type is CC-BY-SA 4.0.
Jurnal Teknik Elektro (JTE)is licensed under a Creative Commons Attribution-ShareAlike 4.0 International License.