ANALISA PENTANAHAN GARDU DISTRIBUSI 20 KV DARI PENYULANG AIR SALEH (PT. PLN (Persero) Sub Ranting Air Saleh)
Subianto Subianto

Universitas Palembang

Raden Ahmad Yani

Universitas Palembang
Abstract
Dalam pembangkitan energi listrik dan pendistribusiannya dapat mengalami berbagai macam gangguan yang dapat menimbulkan terhentinya pusat pembangkit energi listrik maupun penyaluran energi listrik kepada konsumen. Faktor-faktor yang dapat menyebabkan terjadinya gangguan pada sistem pembangkitan dan pendistribusian energi listrik ini diantaranya adalah Surja Petir dan Hubung Singkat. Untuk menghindari terjadinya kerusakan peralatan, baik pada pembangkitan, pendistribusian maupun pekerjanya dari gangguan tersebut, maka diperlukan suatu pengamanan dan perlindungan, salah satu dari pengamanan dan perlindungan tersebut adalah dengan menghubungkan peralatan dengan pemasangan sistem pentanahan. Berdasarkan PUIL 2001 nilai tahanan pentanahan harus dibawah 5 ohm. Dari hasil perhitungan tahanan pentanahan yang dilakukan pada Gardu Distribusi 20 KV dari Penyulang Air Saleh yaitu sebesar 4,75 ohm. Dengan demikian tahanan pentanahan tersebut masih memenuhi standar yang berlaku.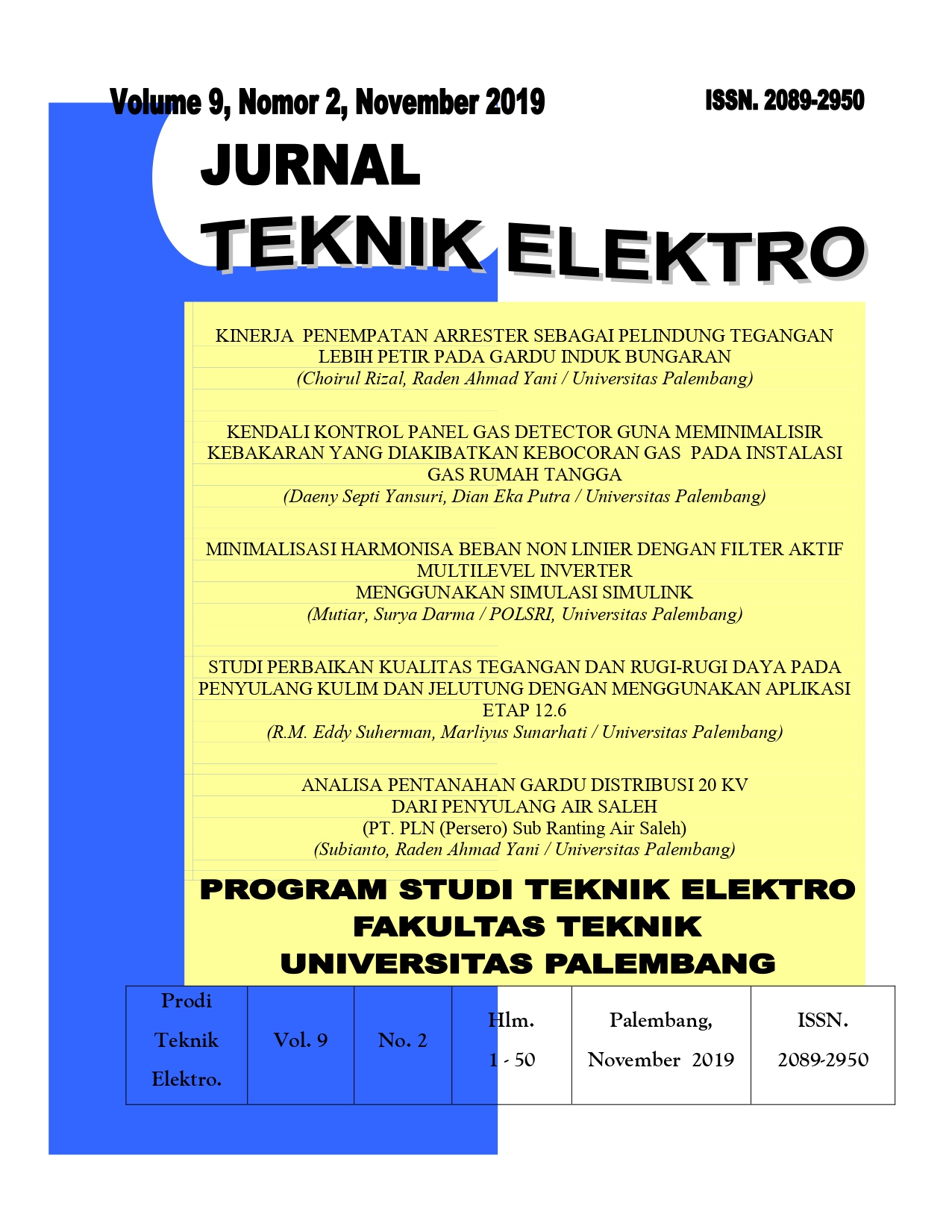 How to Cite
Subianto, S., & Yani, R. (2019). ANALISA PENTANAHAN GARDU DISTRIBUSI 20 KV DARI PENYULANG AIR SALEH (PT. PLN (Persero) Sub Ranting Air Saleh). Jurnal Teknik Elektro, 9(2), 38-47. https://doi.org/10.36546/jte.v9i2.391
An author who publishes in the Jurnal Teknik Elektro (JTE) agrees to the following terms:
Author retains the copyright and grants the journal the right of first publication of the work simultaneously licensed under the Creative Commons Attribution-ShareAlike 4.0 License that allows others to share the work with an acknowledgement of the work's authorship and initial publication in this journal.
Submission of a manuscript implies that the submitted work has not been published before (except as part of a thesis, report, or abstract); that it is not under consideration for publication elsewhere; that its publication has been approved by all co-authors. If and when the manuscript is accepted for publication, the author(s) still hold the copyright and retain publishing rights without restrictions. For the new invention, authors are suggested to manage its patent before publication. The license type is CC-BY-SA 4.0.
Jurnal Teknik Elektro (JTE)is licensed under a Creative Commons Attribution-ShareAlike 4.0 International License.