EVALUASI JENIS KABEL DARI TEMBAGA KE ALUMUNIUM UNTUK DISTRIBUSI POWER SUPPLY 20 KV COAL CONVEYOR
Daeny Septi Yansuri

Universitas Palembang

Subianto Subianto

Universitas Palembang

Muhammad Ali Akbar

Alumni Fakultas Teknik Universitas Palembang
Keywords:
drop voltage, jatuh tegangan, losses, rekonduktor
Abstract
Distribusi energi listrik dari pusat pembangkit listrik (power plant) ke jaringan beban tambang yang letaknya berjauhan selalu mengalami terjadiya rugi-rugi (losses), salah satunya adalah rugi tegangan. Rugi tegangan akan menyebabkan terjadinya jatuh tegangan (drop voltage) yang cukup besar, yang mengakibatkan rendahnya tegangan terima terutama yang berada di ujung saluran jaringan tegangan menengah (JTM). Drop Voltage pada saluran tenaga listrik secara umum berbanding terbalik dengan luas penampang penghantar. Sehingga penambahan luas penampang penghantar akan sangat berpengaruh terhadap perbaikan jatuh tegangan.Metode untuk memperbaiki jatuh tegangan pada sistem distribusi jaringan tegangan menengah (JTM) 20 kV di suatu feeder diantaranya adalah rekonduktor penghantar yaitu dengan mengganti luas penampang menjadi lebih besar dan mengganti jenis penampang konduktor. Penelitian ini menganalisis penambahan luas penampang penghantar terhadap drop voltage. Perhitungannya dilakukan dengan cara memasukan data-data yang didapat dari katalog spesifikasi kabel serta sebagai pembanding dilakukan pengukuran nilai resistansi dan induktansi pada kabel AL 3 x 240 mm dan CU 3 x 70 mm dengan mengambil sampel langsung dilapangan.Penelitian dilakukan pada penghantar jenis kabel AAAC (All Alumunium Alloy Conductor) 3 x 240 mm², dan kabel CU 3 x 70 mm. Hasil simulasi perhitungan menunjukkan nilai drop voltage nya 1,11% untuk kabel tembaga, 0,83% untuk kabel Alumunium. Dengan dilakukannya rekonduktor penghantar dengan penambahan luas penampang penghantar akan menurunkan drop voltage, sehingga dapat meningkatkan kualitas serta keandalan sistem tenaga listrik.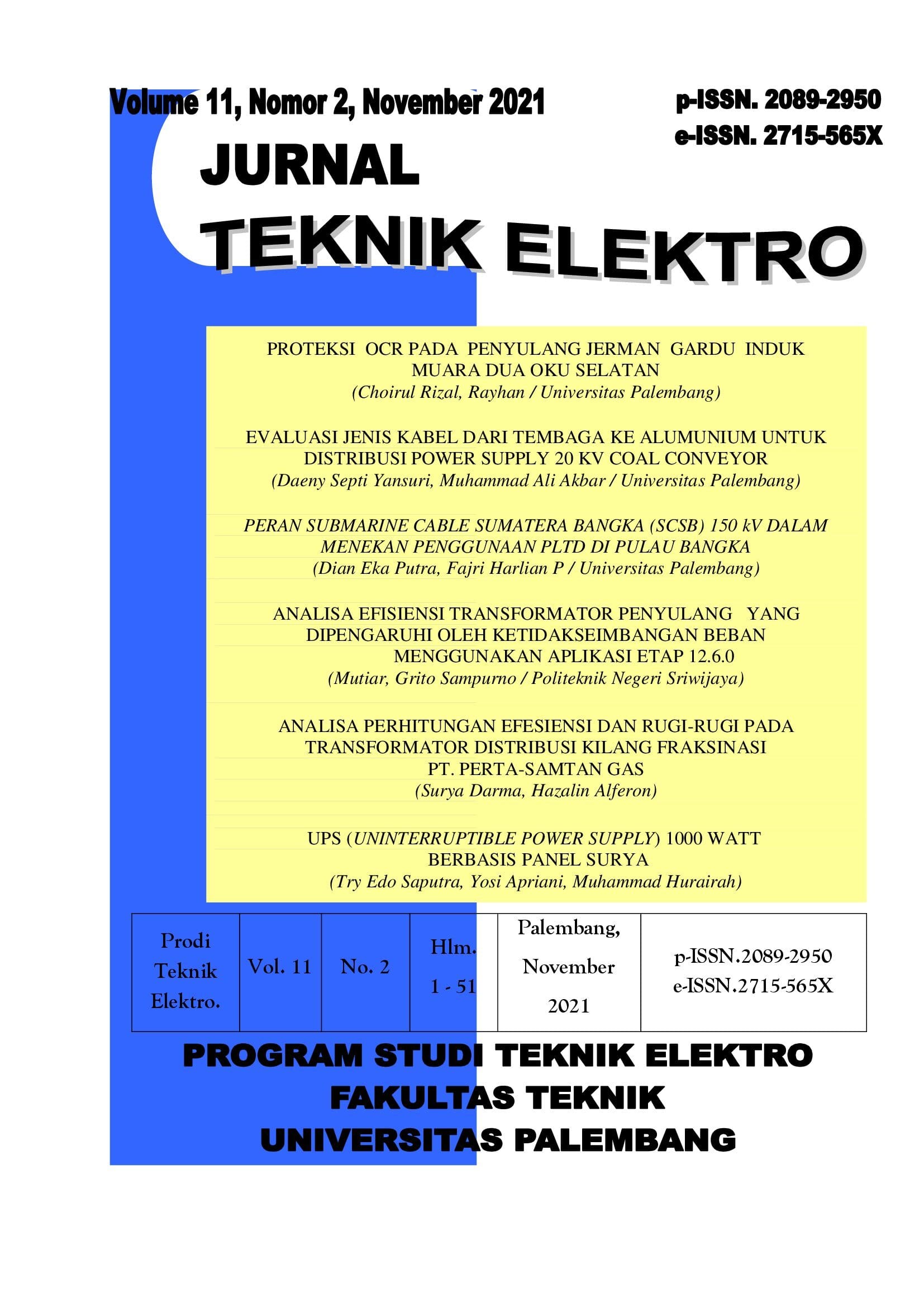 How to Cite
Yansuri, D., Subianto, S., & Akbar, M. (2021). EVALUASI JENIS KABEL DARI TEMBAGA KE ALUMUNIUM UNTUK DISTRIBUSI POWER SUPPLY 20 KV COAL CONVEYOR. Jurnal Teknik Elektro, 11(2), 9-17. https://doi.org/10.36546/jte.v11i2.488
Copyright (c) 2021 Daeny Septi Yansuri, Subianto Subianto, Muhammad Ali Akbar
This work is licensed under a Creative Commons Attribution-ShareAlike 4.0 International License.
An author who publishes in the Jurnal Teknik Elektro (JTE) agrees to the following terms:
Author retains the copyright and grants the journal the right of first publication of the work simultaneously licensed under the Creative Commons Attribution-ShareAlike 4.0 License that allows others to share the work with an acknowledgement of the work's authorship and initial publication in this journal.
Submission of a manuscript implies that the submitted work has not been published before (except as part of a thesis, report, or abstract); that it is not under consideration for publication elsewhere; that its publication has been approved by all co-authors. If and when the manuscript is accepted for publication, the author(s) still hold the copyright and retain publishing rights without restrictions. For the new invention, authors are suggested to manage its patent before publication. The license type is CC-BY-SA 4.0.
Jurnal Teknik Elektro (JTE)is licensed under a Creative Commons Attribution-ShareAlike 4.0 International License.