ANALISA PERHITUNGAN EFESIENSI DAN RUGI-RUGI PADA TRANSFORMATOR DISTRIBUSI KILANG FRAKSINASI PT. PERTA-SAMTAN GAS
Surya Darma

Universitas Palembang

Hazalin Alferon

Alumni Fakultas Teknik Universitas Palembang
Keywords:
Transformator,Rugi-rugi dan Efisiensi Transformator
Abstract
Dewasa ini Indonesia sedang melaksanakan pembangunan di segala bidang. Seiring dengan laju pertumbuhan pembangunan maka dituntut adanya sarana dan prasarana yang mendukungnya seperti tersedianya tenaga listrik. Saat ini tenaga listrik merupakan kebutuhan yang utama, baik untuk kehidupan sehari-hari maupun untuk kebutuhan industri. Penyediaan tenaga listrik yang stabil dan kontinyu merupakan syarat mutlak yang harus dipenuhi dalam memenuhi kebutuhan tenaga listrik. diperlukan sebuah sistem distribusi yang mampu menyalurkan listrik dari sumber pembangkit menuju ke sasaran dengan mudah, cepat dan efisien. Salah satu instrument yang selama ini digunakan dalam sistem distribusi tersebut adalah transformator.Transformator merupakan salah satu bagian yang paling penting dalam suatu sistem tenaga listrik yang berfungsi untuk mengkonversikan tegangan dari satu tingkat ketingkat yang lainnya melalui gandengan magnetik berdasarkan prinsip elektromagnetik tanpa  merubah frekuensi.Gardu induk Distribusi PT.SAMTAN-PERTA GAS mempunyai dua buah transformator, salah satunya transformator yang sampai saad ini masih dioperasikan secara terus-menerus, transformator tersebut perlu penelitian ulang dengan cara menganalisa perhitungan tentang efesiensi transformator, rugi-rugi transformator,  yang disesuaikan dengan SPLN tahun 1997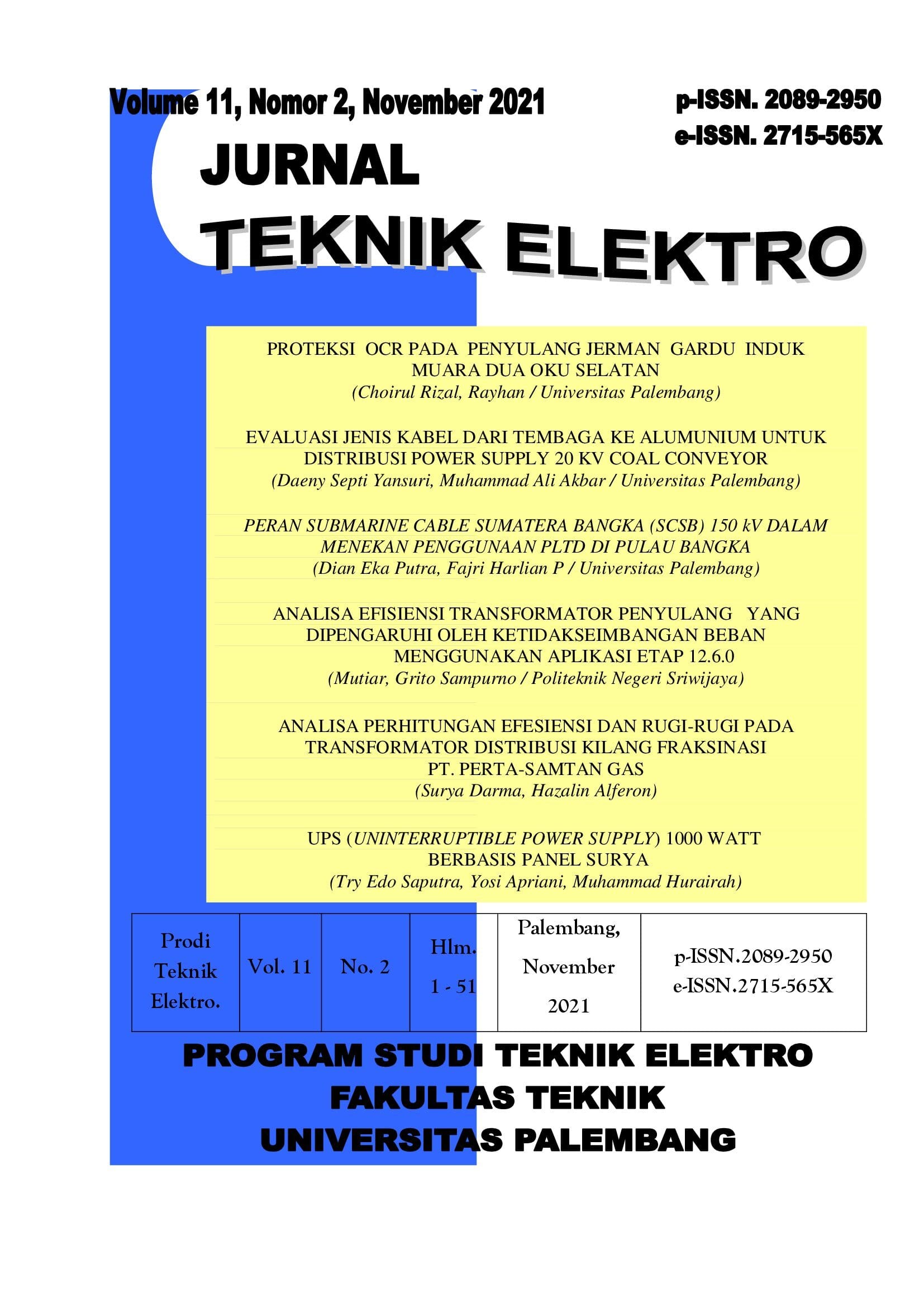 How to Cite
Darma, S., & Alferon, H. (2021). ANALISA PERHITUNGAN EFESIENSI DAN RUGI-RUGI PADA TRANSFORMATOR DISTRIBUSI KILANG FRAKSINASI PT. PERTA-SAMTAN GAS. Jurnal Teknik Elektro, 11(2), 32-44. https://doi.org/10.36546/jte.v11i2.491
Copyright (c) 2021 Surya Darma, Hazalin Alferon
This work is licensed under a Creative Commons Attribution-ShareAlike 4.0 International License.
An author who publishes in the Jurnal Teknik Elektro (JTE) agrees to the following terms:
Author retains the copyright and grants the journal the right of first publication of the work simultaneously licensed under the Creative Commons Attribution-ShareAlike 4.0 License that allows others to share the work with an acknowledgement of the work's authorship and initial publication in this journal.
Submission of a manuscript implies that the submitted work has not been published before (except as part of a thesis, report, or abstract); that it is not under consideration for publication elsewhere; that its publication has been approved by all co-authors. If and when the manuscript is accepted for publication, the author(s) still hold the copyright and retain publishing rights without restrictions. For the new invention, authors are suggested to manage its patent before publication. The license type is CC-BY-SA 4.0.
Jurnal Teknik Elektro (JTE)is licensed under a Creative Commons Attribution-ShareAlike 4.0 International License.