PERENCANAAN GROUNDING SISTEM PADA GEDUNG PERAWATAN LISTRIK MCC PT. BUKIT ASAM - TANJUNG ENIM
Aang Rudiansyah

Universitas Palembang

Yos Randika

Universitas Palembang

Ifan Randika

Universitas Palembang

Dian Eka Putra

Universitas Palembang

R Ahmad Yani

Universitas Palembang
Abstract
Bukit Asam sebagai salah satu perusahaan penambangan batu bara terbesar dalam mejalankan aktivitas bisnisnya selain dengan kegiatan penambangan dilapangan dibantu dengan sistem administrasi dan pembengkelan dan telekomunikasi, tentu untuk melindungi dari arus bocor atau tegangan sentuh harus memiliki sistem pentanahan pada beberapa peralatan yaitu pada sistem instalasi peralatan listrik dan  sistem instalasi peralatan komunikasi, dimana sistem pentanahan bertujuan untuk memberikan perlindungan pada seluruh  operator  atau mahluk hidup maupun perlindungan pada peralatan-peralatan yang menggunakan energi listrik sebagai energi utamanya. Dari hasil penelitian didapat nilai resistivitas tanah pada lahan gedung perawatan listrik MCC TAL sebesar 30,57 Ωm dari nilai resistivitas tersebut dapat dirancang sistem pentanahan dengan menggunakan elektroda batang pentanahan baik menggunakan 1 batang elektroda pentanahan dan 2 batang elektroda batang pentanahan. Dari estimasi didapat nilai pentanahan sesuai standar PUIL 2000 sebesar 3,8 Ω dengan menggunakan 2 batang elektroda batang pentanahan dengan jarak antar batang elektroda pentanahan sepanjang 2 meter. Sedangkan untuk estimasi perhitungan dengan 1 batang elektroda pentanahan untuk mencapai nilai standar PUIL 2000 harus dikedalaman 7,5 meter dengan nilai resistansi pentanahan sebesar 4,75 Ω.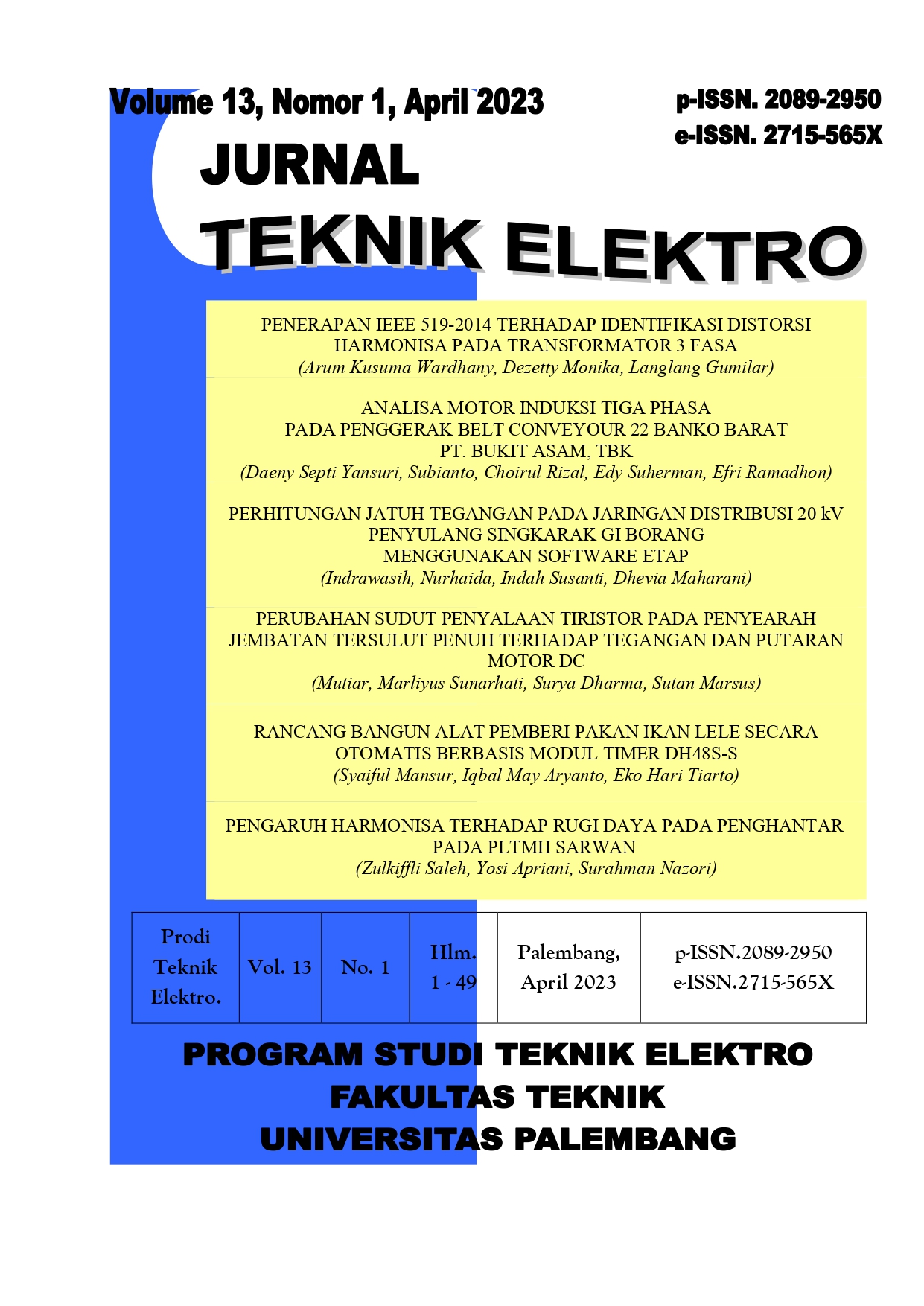 An author who publishes in the Jurnal Teknik Elektro (JTE) agrees to the following terms:
Author retains the copyright and grants the journal the right of first publication of the work simultaneously licensed under the Creative Commons Attribution-ShareAlike 4.0 License that allows others to share the work with an acknowledgement of the work's authorship and initial publication in this journal.
Submission of a manuscript implies that the submitted work has not been published before (except as part of a thesis, report, or abstract); that it is not under consideration for publication elsewhere; that its publication has been approved by all co-authors. If and when the manuscript is accepted for publication, the author(s) still hold the copyright and retain publishing rights without restrictions. For the new invention, authors are suggested to manage its patent before publication. The license type is CC-BY-SA 4.0.
Jurnal Teknik Elektro (JTE)is licensed under a Creative Commons Attribution-ShareAlike 4.0 International License.