KAJIAN MANAJEMEN OPTIMALISASI PENERANGAN JALAN UMUM
Marliyus Sunarhati

Universitas Palembang

Rosita Efriyanti

Universitas Palembang

Ricky Kurniawan

Universitas Palembang
Abstract
Kajian  ini  bertujuan  untuk  memberi masukan kepada  Pemerintah  Kota  Palembang dalam rangka efisiensi penggunaan daya listrik untuk penerangan jalan umum dan pengelolaan pendapatan pajak dari masyarakat. Kajian ini menggunakan pengaruh dari kepadatan lalu lintas jalan dalam satuan mobil penumpang (smp), guna optimalisasi penerangan jalan umum dalam kondisi kepadatan lalu lintas jalan yang rendah. Data Volume Lalu lintas Harian Rata-rata (LHR) Jalan Kaswari dilakukan dari jam 18.00 sore hari, hingga 06.00 WIB pagi  dengan pencatatan per
15 menit, kemudian dibuat tabel grafik garis hubungan antara LHR dengan waktu penyalaan lampu penerangan jalan umum Kota Palembang, pada hari kerja diperoleh : (1) waktu efisiensi penyalaan lampu pada K1 (25%) antara jam 22.30 sampai dengan 03.45 Wib, (2) waktu efisiensi penyalaan lampu pada K2 (50%) antara jam 21.45 sampai dengan 04.30 Wib. Sedangkan pada hari libur berdasarkan keamanan dan keindahan kota serta volume lalulintas kendaraan yang cukup padat maka tidak ada perlakuan optimalisasi peredupan. Optimalisasi dengan sistem peredupan  ballast  (40%)  dari  daya  250  watt  menjadi  150  watt  pada  seluruh  titik  lampu penerangan, didapat perhitungan kuat penerangan rata-rata sebesar 32,4 Lx,   dan masih memenuhi syarat minimal kuat penerangan rata-rata untuk jenis jalan kolektor sebesar 7 Lx. Sistem optimalisasi dengan peredupan  diperoleh efisiensi pada K1 (25%) sebesar 23,16 % dan K2 (50%) sebesar 25,05%..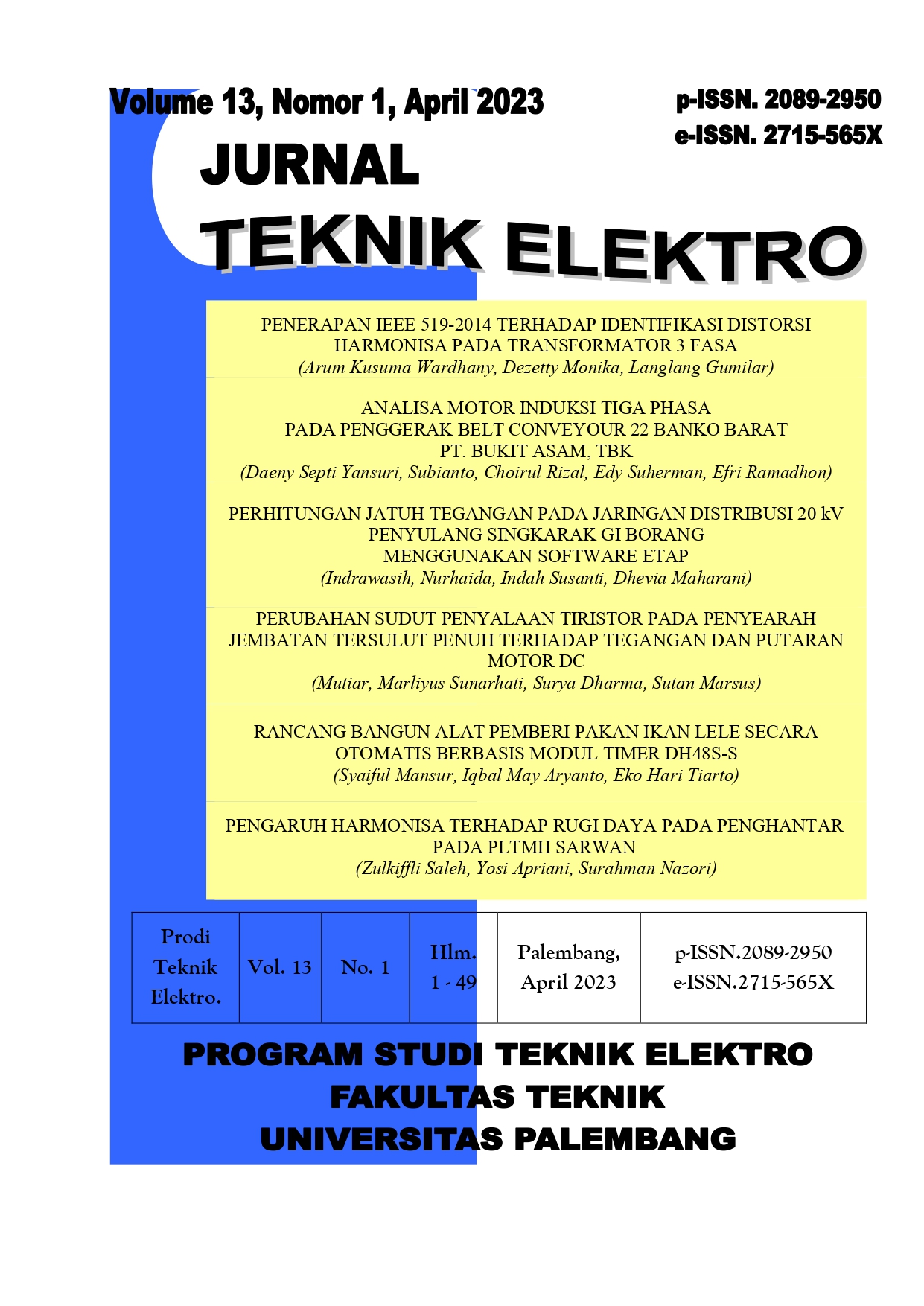 An author who publishes in the Jurnal Teknik Elektro (JTE) agrees to the following terms:
Author retains the copyright and grants the journal the right of first publication of the work simultaneously licensed under the Creative Commons Attribution-ShareAlike 4.0 License that allows others to share the work with an acknowledgement of the work's authorship and initial publication in this journal.
Submission of a manuscript implies that the submitted work has not been published before (except as part of a thesis, report, or abstract); that it is not under consideration for publication elsewhere; that its publication has been approved by all co-authors. If and when the manuscript is accepted for publication, the author(s) still hold the copyright and retain publishing rights without restrictions. For the new invention, authors are suggested to manage its patent before publication. The license type is CC-BY-SA 4.0.
Jurnal Teknik Elektro (JTE)is licensed under a Creative Commons Attribution-ShareAlike 4.0 International License.