EKSISTENSI KEKUASAAN KEHAKIMAN ( JUDICATIVE POWER) DALAM MEWUJUDKAN INDEPEDENSI PERADILAN DAN PERADILAN YANG BERSIH
Eveline Fifiana

Sekolah Tinggi Hukum Sumpah Pemuda
Keywords:
Independency; Judicial Power; Judiciary; Judge; Justice
Abstract
Every Indonesian citizen has the obligation to uphold the applicable law. Every implemented law has a demand for justice. Judicial power must exist in every democratic State of Law, tasked with upholding and overseeing the enactment of the applicable law and regulations (ius constitutum) in order to realize justice. Law without justice will be in vain, as a result, law will become invaluable before community. To answer the problems in this study, the researcher used a normative juridical approach, descriptive qualitative in nature. In this research, law enforcers, especially judges, must uphold the authority of the law and uphold the value of trust in society. The important prerequisites in upholding law and justice in the wolrd of justice is noble, clean, honest, professional, high integrity, high moral, and dignified judge. Supreme Court and Constitutional Court as judicial power holders, along with Judicial Commision in the scope of judiciary powers, not only have the authority to guide the judges but also have the authority to maintain the independency of judiciary powers from the influence of government and outside government parties by minimizing the subjectivity in recruitment process of prospective judges and supreme judges. The independency of judicial power is not enough, because law enforcers, especially "bad" judges can take refugee under the independency of judicial power.  To build an "ideal" Judge or Supreme Judge who will fulfill the people needs of justice, the Judge or Supreme Judge recruitment process conducted by Judical Commission need to be strict while increasing the control over the implementation of power to minimize the arbitrary acts and abusive judge's power. High commitment, consistency, adhering to the principles and code of ethics in carrying out their duties will lead to a clean, authoritative judiciary in the eyes of the society so that the hope of upholding independent judicial power will be realized while at the same time bring improvements to the Indonesian justice situation.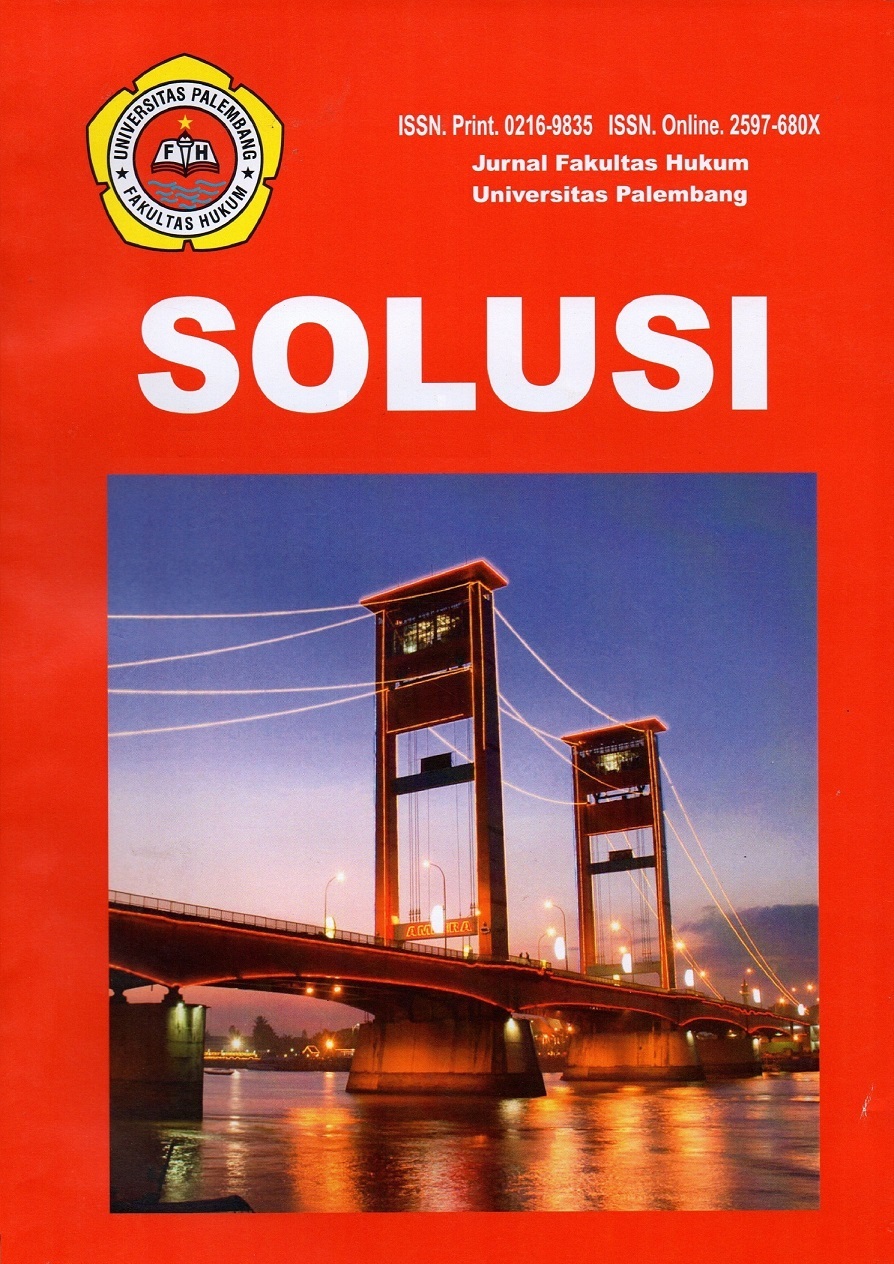 Copyright (c) 2018 Solusi
This work is licensed under a Creative Commons Attribution-ShareAlike 4.0 International License.
Authors who publish with this journal agree to the following terms:
Authors retain copyright and grant the journal right of first publication with the work simultaneously licensed under a Creative Commons Attribution License that allows others to share the work with an acknowledgement of the work's authorship and initial publication in this journal.
Authors are able to enter into separate, additional contractual arrangements for the non-exclusive distribution of the journal's published version of the work (e.g., post it to an institutional repository or publish it in a book), with an acknowledgement of its initial publication in this journal.
Authors are permitted and encouraged to post their work online (e.g., in institutional repositories or on their website) prior to and during the submission process, as it can lead to productive exchanges, as well as earlier and greater citation of published work