BENTUK DAN TANGGUNGJAWAB PIHAK BANK TERHADAP DANA SIMPANAN PARA NASABAH
Fitriah Fitriah

Universitas Palembang
Keywords:
Bank Secrets; Responsible; Customer
Abstract
  A bank is a financial institution whose existence depends absolutely on the trust of its customers who entrust their savings funds. Banks are very concerned that the trust of the public, who have and who will save their funds, are well-maintained, considering that the bank is part of the financial system and payment system. Bank secrecy is very important because banks need the trust of the people who keep their money in the bank. The customer only entrusts his money to the bank or makes use of the bank's services if the bank provides a guarantee that the bank's knowledge of deposits and the state of their assets will not be misused. The legal relationship between the bank and the depository customer starts from the signing of a written agreement (contractual relationship) between the bank and the customer which contains the rights and obligations for each party. As for the form of agreement for depositing funds between the customer and the bank, it is called a deposit agreement (Article 1319 Civil Code). In a deposit agreement, the bank sets certain general requirements in a deposit account or savings account, among others, the recipient of the deposit (bank) can use the depositors' money and at a certain time the bank will provide interest. Other provisions that can be used as the basis of relations between banks and depositors are Proxy Giving. Depositors give their power to banks when signing deposit accounts or savings accounts or bank accounts. This agreement becomes a law or law for both parties (Article 1338 of the Civil Code). As a manifestation of the bank's responsibility for depositing customers, banks must pay attention to the 4 (four) pillars of the relationship between depositors and banks, namely: Prudence, Health, Bank Secrets and Trust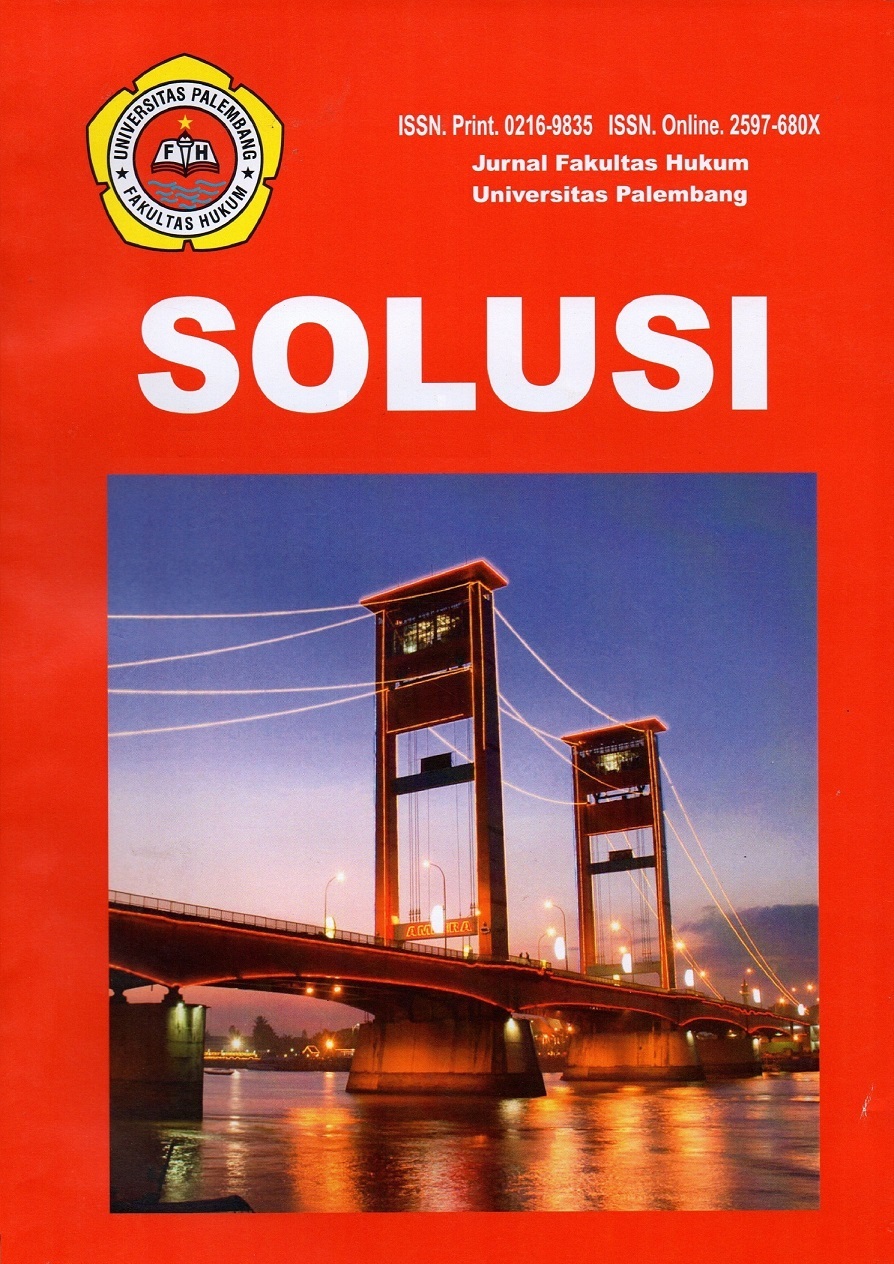 Copyright (c) 2018 Solusi
This work is licensed under a Creative Commons Attribution-ShareAlike 4.0 International License.
Authors who publish with this journal agree to the following terms:
Authors retain copyright and grant the journal right of first publication with the work simultaneously licensed under a Creative Commons Attribution License that allows others to share the work with an acknowledgement of the work's authorship and initial publication in this journal.
Authors are able to enter into separate, additional contractual arrangements for the non-exclusive distribution of the journal's published version of the work (e.g., post it to an institutional repository or publish it in a book), with an acknowledgement of its initial publication in this journal.
Authors are permitted and encouraged to post their work online (e.g., in institutional repositories or on their website) prior to and during the submission process, as it can lead to productive exchanges, as well as earlier and greater citation of published work