Implementasi Hak Asasi Manusia Sebagai Hak Konstitusional Warga Negara Pada Peraturan Daerah Mengenai Sistem Penyelengaraan Pendidikan Gratis 12 Tahun di Provinsi Sumatera Selatan Khususnya Kota Palembang
Silfy Maidianti

Universitas Sjahkyakirti Palembang
Keywords:
Regional Regulations; Human Rights; Free Education 12 Years
Abstract
This research is motivated by the development of the city of Palembang local government also pay much attention to the aspect of the fulfillment of human rights education free of charge from elementary, junior high, and high school level. It is the fulfillment of socio-cultural rights of the community which has been regulated in the South Sumatera Provincial Regulation No. 16 of 2011 on the implementation of the 12-year free education program and how the implementation of the program's policies is running accordingly and on target. Of the issues to be discussed1. The role of DPRD of Palembang City in Formation and Supervision. Product Regulation Area Free Education Program 12 Years 2. Implementation of the implementation of free education program 12 Years in the field.This research employs the empirical normative method by analyzing, solving and explaining the existing problems by collecting data clarifying and interpreting. The data used are primary, secondary and tertiary data. The result of the research can be concluded that in forming a good regulation should be based on the principles of legislation. as well as the control side to what extent the DPRD has implemented effective oversight of the regional heads in implementing the established public policies. To carry out the oversight function, the DPRD in performing its duties is entitled to ask state officials, government officials or citizens to provide information on a matter that needs to be addressed in the interest of the state, nation of government and regional development. In Regional Regulation No. 3 of 2009 jo Perda 16 of 2011 on the implementation of PSG in South Sumatra, it is stipulated that program funds sourced from Provincial APBD are channeled directly to school accounts by provincial / municipal / private government. While funds sourced from APBD districts / cities distributed by the government district / city to each school / madrasah. This PSG fund is used for school operational costs The mechanism for accounting for the allocation of PSG funds in schools should be arranged in order to be balanced. This means that the money out must be in accordance with the entry money as evidenced by the bill of expenditure. Then the note is attached with the letter of accountability (SPJ) reported to the financial department of the education department once every three months. Suggestion that the sharing of funds from districts / municipalities should not be delivered late in the provincial government about the amount of fund sharing and reporting from school to government on the number of students and must be on target until there is no delay in receiving assistance from the province.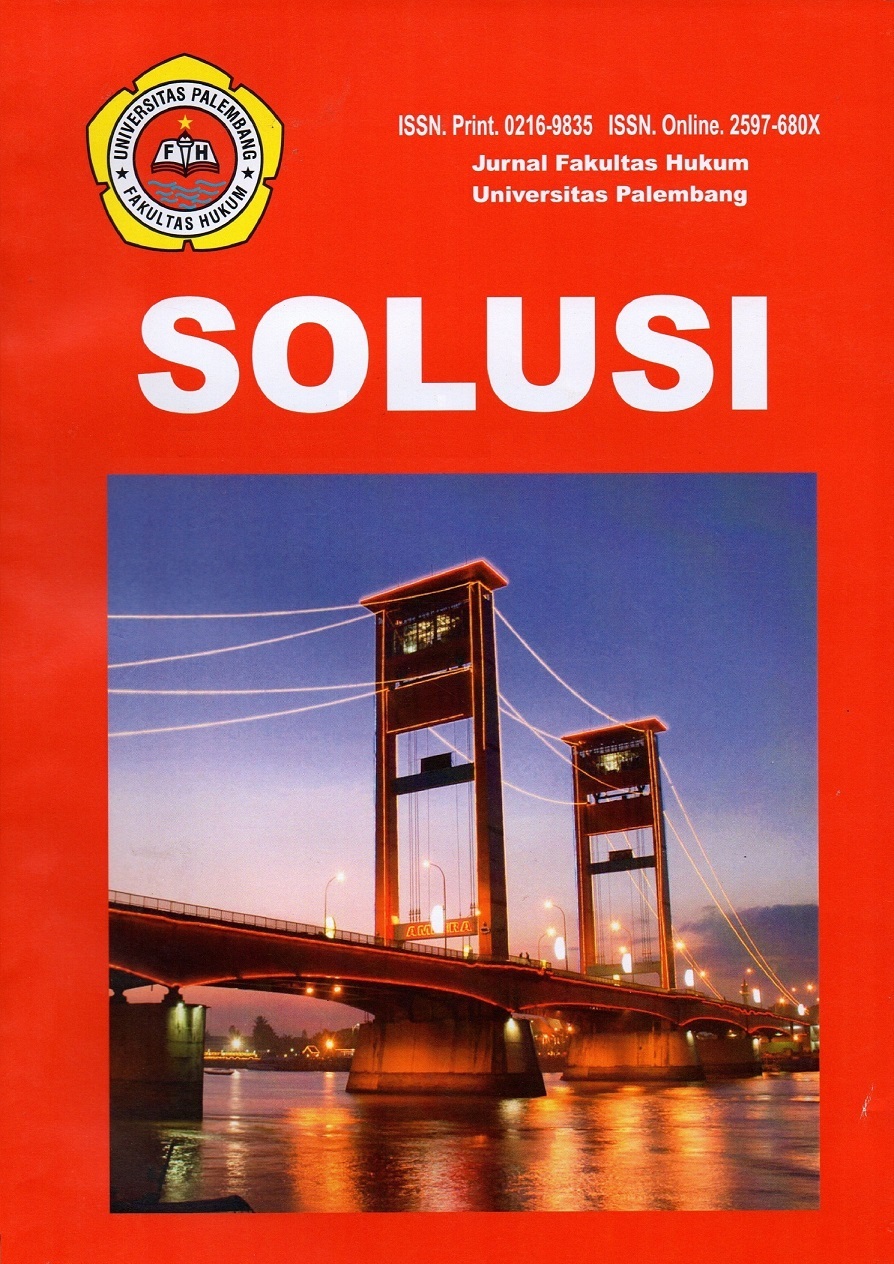 Copyright (c) 2018 Solusi
This work is licensed under a Creative Commons Attribution-ShareAlike 4.0 International License.
Authors who publish with this journal agree to the following terms:
Authors retain copyright and grant the journal right of first publication with the work simultaneously licensed under a Creative Commons Attribution License that allows others to share the work with an acknowledgement of the work's authorship and initial publication in this journal.
Authors are able to enter into separate, additional contractual arrangements for the non-exclusive distribution of the journal's published version of the work (e.g., post it to an institutional repository or publish it in a book), with an acknowledgement of its initial publication in this journal.
Authors are permitted and encouraged to post their work online (e.g., in institutional repositories or on their website) prior to and during the submission process, as it can lead to productive exchanges, as well as earlier and greater citation of published work