ANALISIS PENERAPAN SANKSI ADMINISTRASI PADA PELAKSANAAN PENGELOLAAN LIMBAH PADA RUMAH SAKIT UMUM RADEN MATTAHER JAMBI
Ivan Fauzani Raharja

Universitas Jambi
Keywords:
Waste Management; Administrative Sanctions
Abstract
Medical waste is very important to manage properly, this is because medical waste belongs to the category of hazardous and toxic waste. Some of the medical waste is included in the category of hazardous waste and part of it is infectious. In relation to RSUD Raden Mattaher Jambi waste management problem, the ministry of environment giving black label in 2014 means that its waste management is very bad and it can affect the imposition of administrative sanction which will be accepted by RSUD Raden Mattaher Jambi. According to Article 198 of Government Regulation Number 101 Year 2014 on the Management of Hazardous and Toxic Wastes "Any Person who produces B3 Waste, B3 Waste Collector, B3 Waste Carrier, B3 Waste Users, B3 Waste Processors and / or B3 Waste Landmakers conducting Environmental Pollution and / or Destruction of Compulsory Environment implement: a. Environmental Pollution and / or Environmental Degradation; and b. Environmental Function Recovery. Given these laws and regulations, hospital waste management should be guided by applicable regulations. if it is not implemented then the government has the right to impose administrative sanctions on the matter either in the form of revocation of temporary permit or other form which has been determined.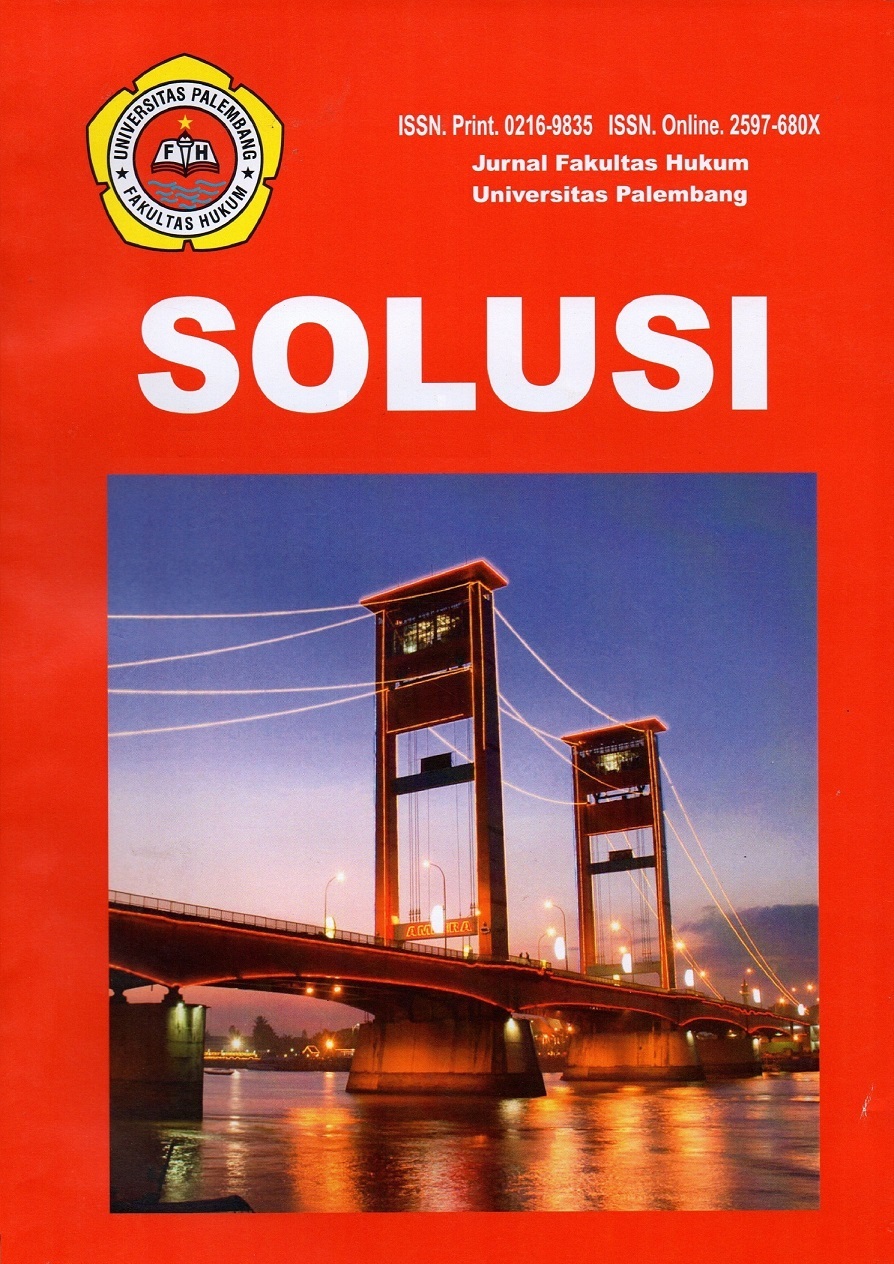 Copyright (c) 2018 Solusi
This work is licensed under a Creative Commons Attribution-ShareAlike 4.0 International License.
Authors who publish with this journal agree to the following terms:
Authors retain copyright and grant the journal right of first publication with the work simultaneously licensed under a Creative Commons Attribution License that allows others to share the work with an acknowledgement of the work's authorship and initial publication in this journal.
Authors are able to enter into separate, additional contractual arrangements for the non-exclusive distribution of the journal's published version of the work (e.g., post it to an institutional repository or publish it in a book), with an acknowledgement of its initial publication in this journal.
Authors are permitted and encouraged to post their work online (e.g., in institutional repositories or on their website) prior to and during the submission process, as it can lead to productive exchanges, as well as earlier and greater citation of published work