EKSISTENSI WARALABA (FRANCHISE) MENURUT PERATURAN PEMERINTAH NO. 42 TAHUN 2007 SEBAGAI PERJANJIAN INNOMINAAT
Asuan Asuan

Universitas Palembang
Keywords:
agreement franchise (franchise), giver and recipient of the franchise
Abstract
This research with normative juridical method. The juridical approach is the approach to the problem by looking in terms of the prevailing laws and regulations regarding the law of the treaty, the existence of Franchise (franchise) according to Government Regulation no. 42 of 2007 as an Innominaat Agreement ". Normative is an approach that uses secondary data with the preparation of a conceptual framework. Normative research is conducted to obtain legal materials in the form of theories, concepts and legal principles derived from the literature in the form of Laws, Government Regulations, Civil Code and the literature-literature, lecture materials and other sources related to problems. By using legal materials such as primary legal materials, secondary legal materials and tertiary legal materials. Result of research: franchise agreement is one of agreement form which involves franchisor as franchisor, franchisee who accept franchise, and Department of Industry and Trade fostering franchise industry. This legal relationship creates rights and obligations that are binding on the franchisor and franchisee. The franchise agreement includes an unnamed agreement (innominat agreement) governed outside the Civil Code. In violation of the franchise agreement the dispute settlement can be done through a court (lawsuit), a musyawara and or through an arbitration body regulated by Law of the Republic of Indonesia Number 30 Year 1999 on Alternative Dispute Settlement and Arbitration. While the legal sanction in violation of franchise agreement is regulated in Article 16 of Government Regulation Number 42 Year 2007 where legal sanction in the form of administrative sanction is done through 3 (three) stages, giving written warning, fine and / or revocation of registration letter of franchise.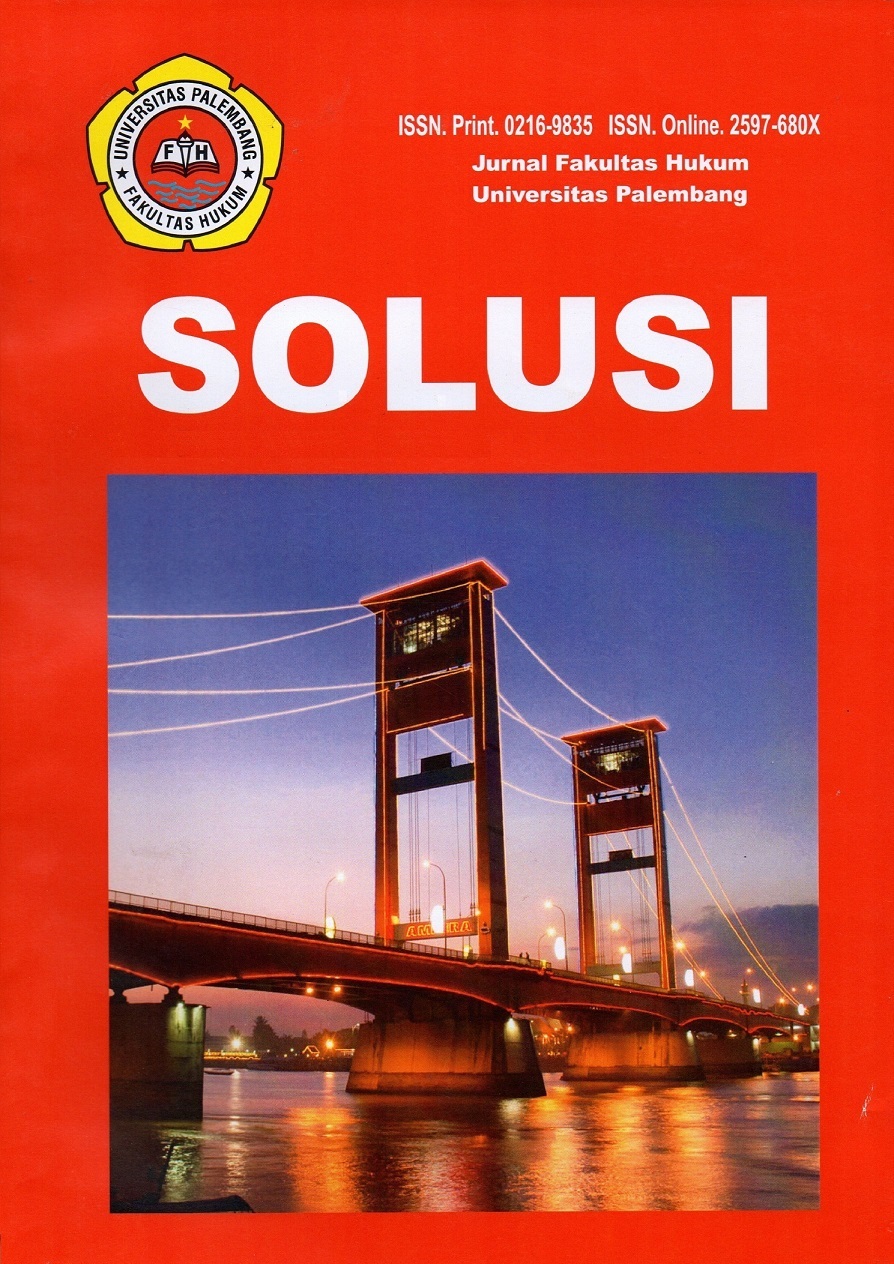 Copyright (c) 2017 Solusi
This work is licensed under a Creative Commons Attribution-ShareAlike 4.0 International License.
Authors who publish with this journal agree to the following terms:
Authors retain copyright and grant the journal right of first publication with the work simultaneously licensed under a Creative Commons Attribution License that allows others to share the work with an acknowledgement of the work's authorship and initial publication in this journal.
Authors are able to enter into separate, additional contractual arrangements for the non-exclusive distribution of the journal's published version of the work (e.g., post it to an institutional repository or publish it in a book), with an acknowledgement of its initial publication in this journal.
Authors are permitted and encouraged to post their work online (e.g., in institutional repositories or on their website) prior to and during the submission process, as it can lead to productive exchanges, as well as earlier and greater citation of published work