EKSISTENSI BADAN PENYELESAIAN SENGKETA KONSUMEN (BPSK) DALAM PENYELESAIAN SENGKETA KONSUMEN (KAJIAN UNDANG-UNDANG NOMOR 8 TAHUN 1999 TENTANG PERLINDUNGAN KONSUMEN)
Rizayusmanda Rizayusmanda

Universitas Palembang
Keywords:
existence, consumer dispute settlement agency, consumer dispute.
Abstract
The objective of the study is to describe and analyze the existence of dispute resolution bodies in the dispute resolution of the consensus (Law review number 8 of 1999 on Consumer protection). This research uses normative juridical research. The result of the study: the protection of the cosumen is related to the global business world. The process of dispute occurs because of the absence of common ground between the parties to the dispute. This paper is a normative legal research that is research conducted or directed to the written regulations or other legal materials related to the role of Consumer Dispute Settlement Agency (BPSK) as well as the mechanism of dispute resolution of consumers, and the factors that become constraints of Dispute Settlement Agency Consumers in resolving consumer disputes. Under the provisions of Consumer Protection Act No. 8 of 1999, the role of Consumer Dispute Settlement Board is very helpful in resolving consumer disputes. The mechanism of consumer dispute resolution has been regulated in Article 54 of the Consumer Protection Law Number 8 Year 1999, and is followed up by the issuance of Presidential Decree No. 90/2001 on Technical Guidelines for the Establishment of Consumer Dispute Settlement Bodies at the Regency / City level, the factors that constrain the Consumer Dispute Settlement Board in resolving consumer disputes are 1) institutional / institutional constraints; 2). Funding constraints; 3) .the constraints of human resources; 4) regulatory constraints; 5). lack of socialization to the community; and 6) lack of understanding from the judiciary against consumer protection policies. The role of the Consumer Dispute Settlement Board should be able to act and act more optimally, if in every local government that has had a Consumer Dispute Settlement Agency supporting this institution from both the moral and material aspects, and from the aspect of the regulation, it should be revised by UUPK Number 8 Year 1999 which is currently in force so that the regulations of Presidential Decree and Ministerial Decree can be accommodated into a new law regulating consumer protection.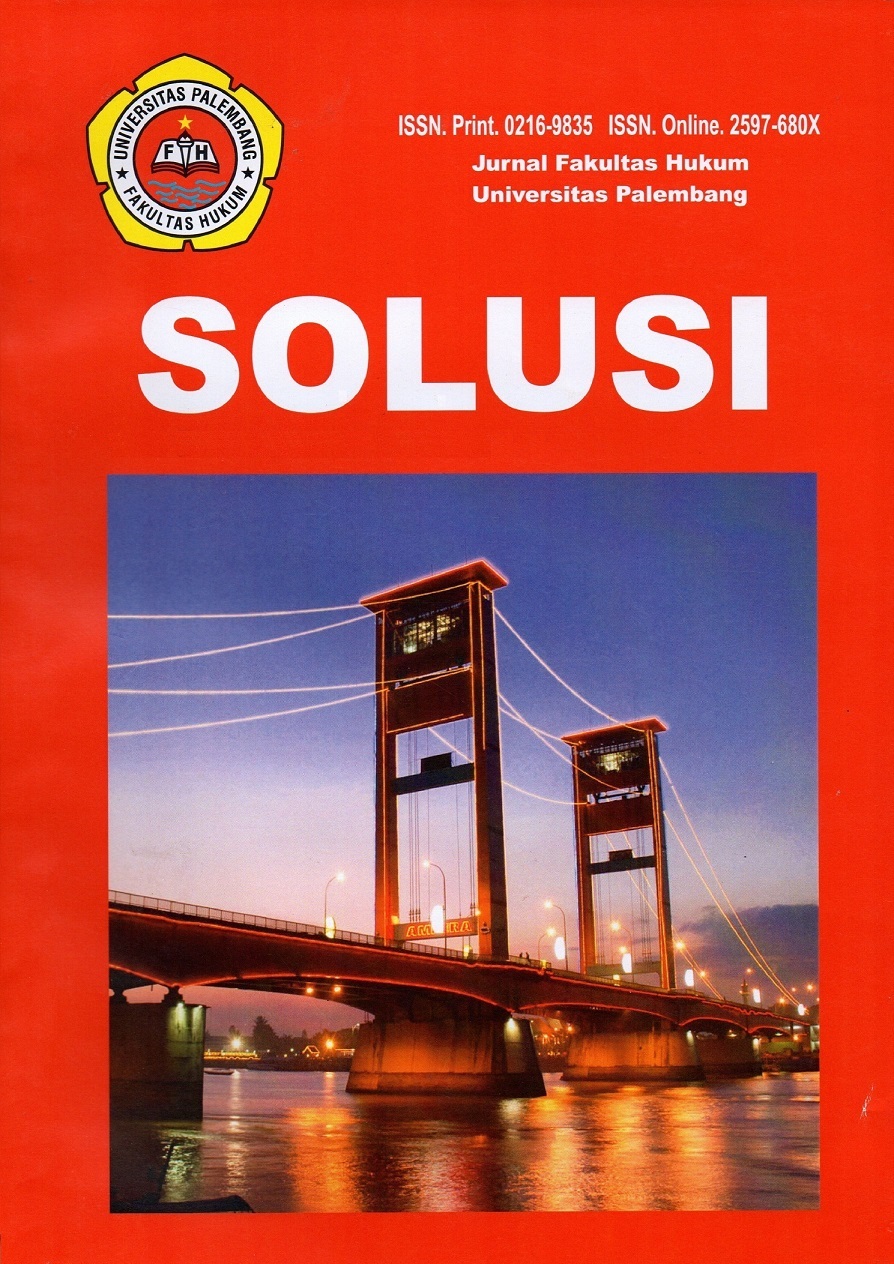 Copyright (c) 2017 Solusi
This work is licensed under a Creative Commons Attribution-ShareAlike 4.0 International License.
Authors who publish with this journal agree to the following terms:
Authors retain copyright and grant the journal right of first publication with the work simultaneously licensed under a Creative Commons Attribution License that allows others to share the work with an acknowledgement of the work's authorship and initial publication in this journal.
Authors are able to enter into separate, additional contractual arrangements for the non-exclusive distribution of the journal's published version of the work (e.g., post it to an institutional repository or publish it in a book), with an acknowledgement of its initial publication in this journal.
Authors are permitted and encouraged to post their work online (e.g., in institutional repositories or on their website) prior to and during the submission process, as it can lead to productive exchanges, as well as earlier and greater citation of published work