Bentuk DanTanggungjawab Atas Terjadinya Keterlambatan Penerbangan (Delay Management) Pada Badan Usaha Angkutan Udara Niaga Berjadwal Di Indonesia
Fitriah Fitriah

Universitas Palembang
Abstract
After the reform, in Indonesia there are many new airlines in addition to government-owned airlines. Each airline is competing to serve passengers at a low price. Airlines often offer promo tickets. With the tariff war between airlines often forget the protection of the passengers themselves. So the plane often experienced schedule delay, baggage claim lost or the worst: accident accident. To implement the provisions of Law Number 1 Year 2009 on Aviation and provide protection and service of scheduled commercial airline passengers, it is necessary to regulate Flight Delay Management at the Scheduled Commercial Air Transport Agency in Indonesia. Referring to the Law stipulated Ministerial Regulation (PM) concerning the handling of flight delays (Delay Management) at the Business Air Transport Agency Commerce Scheduled in Indonesia. In Ministerial Regulation no. 89 Year 2015 is also described the scope of flight delays and factors causing delays. The factors causing flight delays (Delay Management) at the Scheduled Air Transport Operations Agency in Indonesia (Article 5 PM 89 of 2015) are: Flight management factor, operational tennis factor, weather factor, and other factors. In the event of delayed flight, the airline is responsible for providing compensation and anti-loss to the passenger. Air transport business entities shall compensate in accordance with the category of delay as referred to in Article 3 PM 89 of 2015.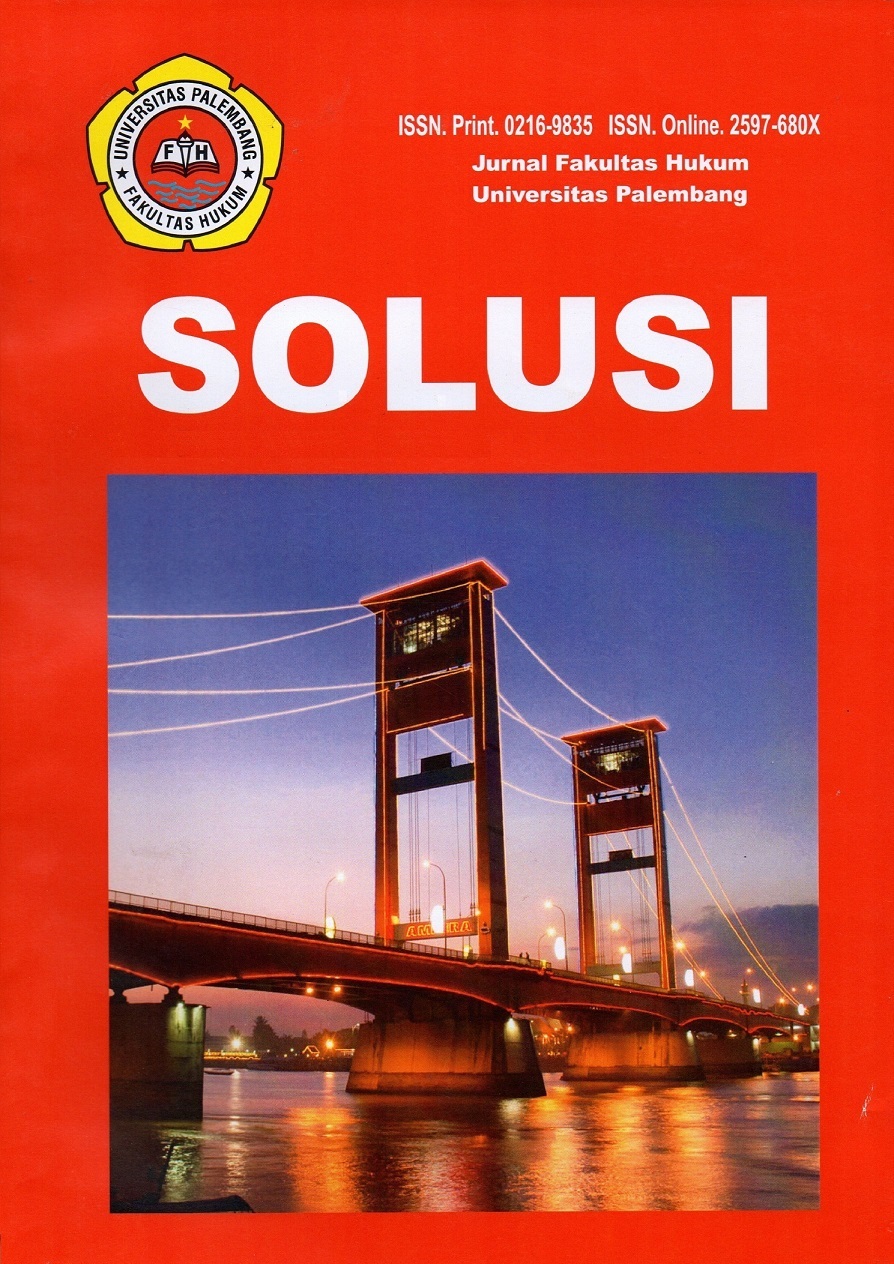 Copyright (c) 2017 Solusi
This work is licensed under a Creative Commons Attribution-ShareAlike 4.0 International License.
Authors who publish with this journal agree to the following terms:
Authors retain copyright and grant the journal right of first publication with the work simultaneously licensed under a Creative Commons Attribution License that allows others to share the work with an acknowledgement of the work's authorship and initial publication in this journal.
Authors are able to enter into separate, additional contractual arrangements for the non-exclusive distribution of the journal's published version of the work (e.g., post it to an institutional repository or publish it in a book), with an acknowledgement of its initial publication in this journal.
Authors are permitted and encouraged to post their work online (e.g., in institutional repositories or on their website) prior to and during the submission process, as it can lead to productive exchanges, as well as earlier and greater citation of published work