KEBERADAAN DEWAN PERWAKILAN DAERAH (DPD) DALAM KETATANEGARAAN INDONESIA
Budi Aspani

Universitas Palembang
Keywords:
Head of Region, DPRD, Report an Description of Accountability
Abstract
This research with normative juridical method. The Third Amendment of the 1945 Constitution, has established a new state institution, the Regional Representative Council (DPD). Underlying the formation of the DPD is the desire to better accommodate aspirations and at the same time provide greater role for the regions in the process of political decision-making for matters that are primarily related to the region. The above matter raises two problems, namely: 1 What is the function and authority of DPD in the Indonesian state administration system? 2. How far does the role of the DPD play in the decision-making process of state policies? The type of research used normative juridical research methods, and by using Primary Legal Material in the form of Shrimp-Invitation relating to Regional Representative Council and Legal Material in the form of Scripts in the form of literature and Tertiary Law Material in the form of research material taken from the internet, articles and opinions. Result: The function and authority of DPD in Indonesian state administration system is very limited, namely: a. DPD functions are limited to proposing, participating in discussions, giving consideration and supervision of certain laws. b.The authority of the DPD only deals with certain laws relating to regional autonomy and may give consideration to the DPR when the DPR exercises its authority.The role of DPD in the decision-making process of State policy is: a Explicitly the role of DPD is only limited to propose the proposal to participate in the deliberation, consideration, and supervision of certain laws.b.As the implicit role of DPD as a state legislative institution is very limited, as well as discussing and not as a breaker such as the House of Representatives (DPR).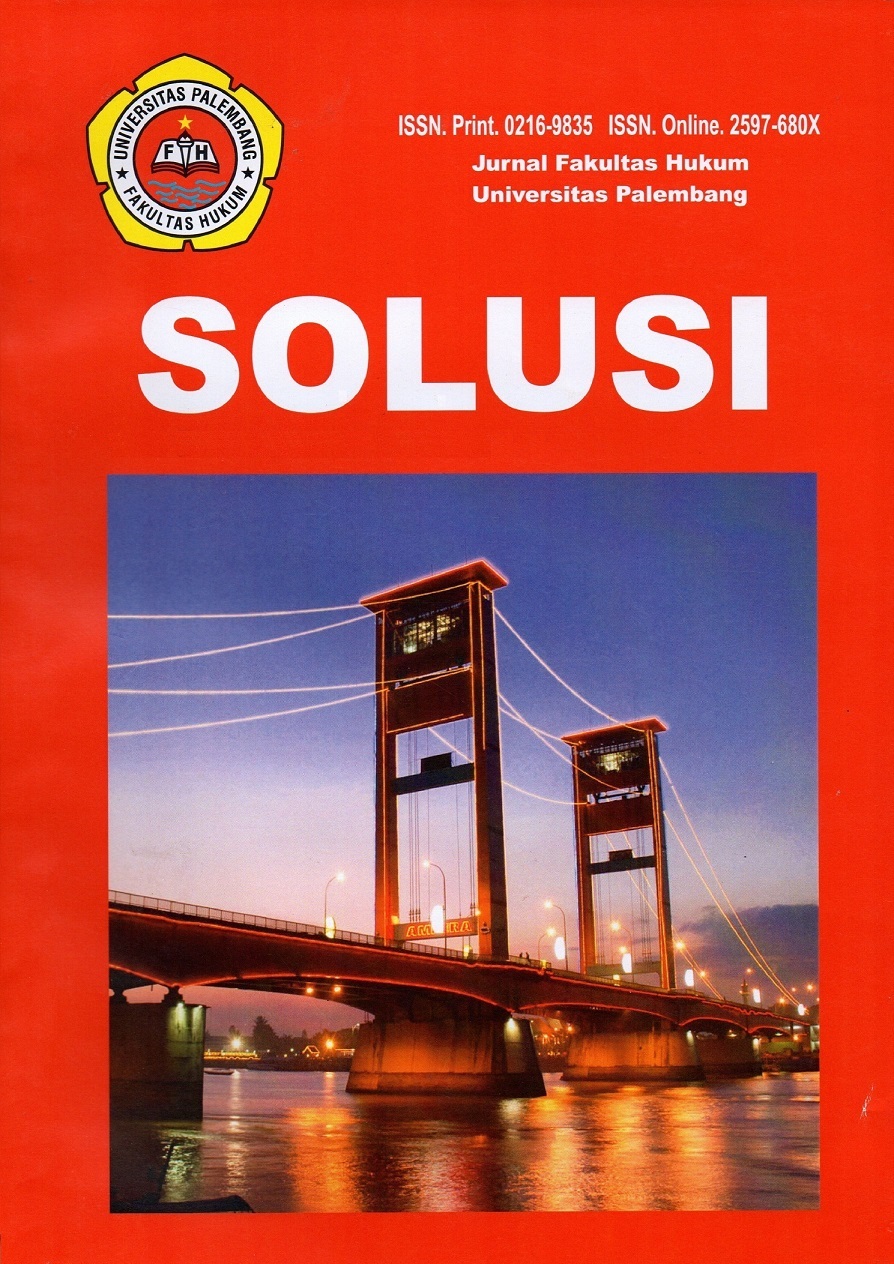 Copyright (c) 2017 Solusi
This work is licensed under a Creative Commons Attribution-ShareAlike 4.0 International License.
Authors who publish with this journal agree to the following terms:
Authors retain copyright and grant the journal right of first publication with the work simultaneously licensed under a Creative Commons Attribution License that allows others to share the work with an acknowledgement of the work's authorship and initial publication in this journal.
Authors are able to enter into separate, additional contractual arrangements for the non-exclusive distribution of the journal's published version of the work (e.g., post it to an institutional repository or publish it in a book), with an acknowledgement of its initial publication in this journal.
Authors are permitted and encouraged to post their work online (e.g., in institutional repositories or on their website) prior to and during the submission process, as it can lead to productive exchanges, as well as earlier and greater citation of published work