KEKUATAN MENGIKAT ISI DARI PERJANJIAN BAKU (STANDARD CONTRACT ) BAGI PARA PIHAK YANG MEMBUATNYA
Abuyazid Bustomi

Universitas Palembang
Abstract
The purpose of this study is to describe and analyze the obedience of a standard contractual agreement for the parties that make it. The treaty constitutes an act whereby one or more persons commit themselves to one or more persons, in which case the legal standing between the parties to the treaty is the same and balanced. The agreement pursuant to the conception of article 1313 of the Civil Code, only mentions the party that binds itself to the other without determining what purpose the agreement is made. The treaty may be interpreted as an agreement by which two or more mutually excelent persons execute one thing in the field of property. This paper examines how the power of law and the consequences of standard / standard contract law for both parties in terms of freedom of contact. This writing is a normative juridical research. In general, the legal consequences of a treaty generally include a standard agreement, if it has fulfilled the terms of the terms of the validity of an agreement, then the agreement agreed and signed by the parties will be valid as a law for those who are bound and enter into the agreement. If the party bound in the agreement, unable to perform the performance or one of the parties to default, then the party who feels aggrieved may submit an objection to the party to perform the fulfillment of achievement, but if not ignored, then the party who feels aggrieved can do lawsuit Civil to the local District Court or the courts agreed upon and contained in the standard agreement.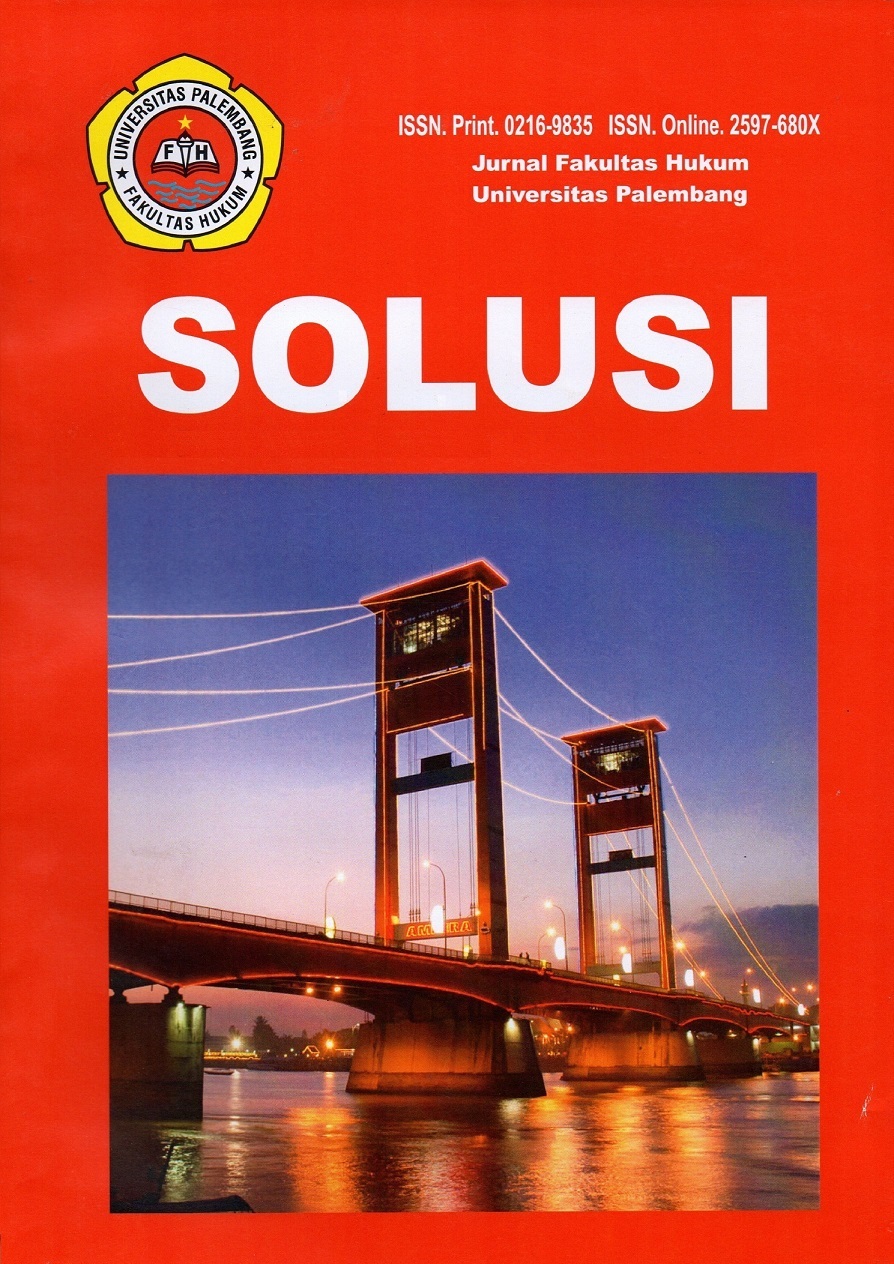 Copyright (c) 2017 Solusi
This work is licensed under a Creative Commons Attribution-ShareAlike 4.0 International License.
Authors who publish with this journal agree to the following terms:
Authors retain copyright and grant the journal right of first publication with the work simultaneously licensed under a Creative Commons Attribution License that allows others to share the work with an acknowledgement of the work's authorship and initial publication in this journal.
Authors are able to enter into separate, additional contractual arrangements for the non-exclusive distribution of the journal's published version of the work (e.g., post it to an institutional repository or publish it in a book), with an acknowledgement of its initial publication in this journal.
Authors are permitted and encouraged to post their work online (e.g., in institutional repositories or on their website) prior to and during the submission process, as it can lead to productive exchanges, as well as earlier and greater citation of published work